Mooketsi Molefi, MB ChB, MSCE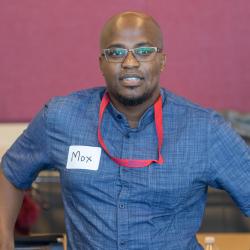 ---
More Info
International Scholar
 Lecturer | University of Botswana Faculty of Medicine
 Botswana
  Biostatistics | Epidemiology | Health Informatics
Languages: Setswana, English
Bio statement
As a young academician and researcher, I aspire to grow professionally. My area of focus has largely been around HIV/AIDS particularly Cryptococcal disease research at clinical trials level. I have done some TB work with colleagues. Through this opportunity I would like to expand my scope to morbidity measures such as quality of life assessment for patients living with HIV/AIDS, TB and cancer I am also interested in health economic evaluations for some of the medical interventions against HIV/AIDS,TB and cancer for resource limited settings like Botswana. Collaboration with international researchers in any of these areas would be key.
Recent global health projects
During my Global health and Leadership fellowship (Afya Bora-North-South University collaboration), I undertook a project to evaluate the effect of the 2013 Public Health Act amendment on HIV testing rates in Princess Marina Hospital using Interrupted time-series methods. I completed and presented the project at the final and it was contender for the best project. Beyond that, the abstract was accepted at the 16th annual International Disease Surveillance held in Orlando, FL.
As part of my career development award, I conceived another project to evaluate the utility of the Medical Outcome Survey tool (MOS-HIV) in Botswana. The project involves two steps: 1) to translate-back-translate the English tool to Setswana and establish the internal consistency and reliability 2) Apply the tool to locals and establish its validity in assessing the quality of life of patients living with HIV. August 2017, I came to Penn for a month for further training(Clinical trials summer course) and received mentoring from some of the Penn Faculty who are now part of the study. I have responded to various calls for research funding.
Selected publications
Molefi M, Chofle A, Molloy S, Kalluvya S, Changalucha J, Cainelli F, Leeme T, Lekwape N, Goldberg D,Haverkamp M, Bisson G, Perfect J, Letang E, Fenner L, Meintjes G, Burton R, Makadzange T, Ndhlovu C, HopeW, Harrison T, Jarvis J. AMBITION-cm: intermittent high dose AmBisome on a high dose fluconazole backbone for cryptococcal meningitis induction therapy in sub-Saharan Africa: study protocol for a randomized controlledtrialTrials 2015, 16:276 (17 June 2015)
Tlhakanelo J, Tshikuka J, Molefi M, Damas Magafu M, Masupe T, Matchaba-Hove, R. (2015) HIV Hospital Admissions Attributable to Specific Opportunistic Infections and Factors Associated with Them at a Botswana Referral Hospital. World Journal of AIDS, 5, 175-181. doi: 10.4236/wja.2015.53020.
Tlhakanelo JT, Tshikuka Mulumba JG, Molefi M, Magafu M G M D, Matchaba-Hove et.al. The burden of Opportunistic infections among HIV patients admitted at Princess Marina Hospital, Botswana, and associated exposure factors. J J Aids Hiv.2015,1(2):010
Tenforde MW Mokomane , Leeme , Patel RK, Lekwape , Ramodimoosi , Dube B, Williams EA, Mokobela K, Tawanana E, Pilatwe T, Hurt WJ, Mitchell H, Banda DL, Stone H, Molefi M, Mokgacha K, Phillips H, Mullan PC,Steenhoff AP, Mashalla Y, Mine , Jarvis JN. Advanced Human Immunodeficiency Virus Disease in Botswana Following Successful Antiretroviral Therapy Rollout: Incidence of and Temporal Trends in Cryptococcal Meningitis. Clin Infect Dis. 2017 Sep 1;65(5):779-786
Rankgoane-Pono G, Tshikuka JG, Magafu MGMD, Masupe T, Molefi M, Hamda SG, Setlhare V, Tapera R, Mbongwe B. Incidence of diabetes mellitus-related comorbidities among patients attending two major HIV clinics in Botswana: a 12-year retrospective cohort study. BMC Res Notes. 2018 Feb 1;11(1):90
Last Updated: 27 January 2022