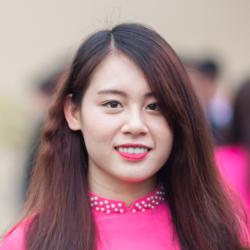 ---
More Info
International Scholar
 Physiology Faculty | VinUniversity College of Health Sciences
 Vietnam
  Metabolic disease | Mitochondrial-related disease | Phosphate toxicity | Vascular Calcification
Languages: Vietnamese (native), English (Professional)
Bio statement
I am Dr. Nhung Thi Nguyen, currently, I am a lecturer in Physiology at the College of Health Sciences, VinUniversity. I have spent more than 5 years on doing research in Physiology to discover the potential therapeutic target for several metabolic diseases. My research concentrates on the toxicity of high serum phosphate, particularly in the development of vascular calcification in patients with chronic kidney diseases (CKD). With the increasing number of CKD patients globally, I believe that my research highly contributes to cure a lot of complications found in these patients.
Recent global health projects
I am joining in several different research topics which are all relating to mitochondria.
The first one is to discover the functional role of mitochondrial formyltransferase (MTFMT) which is believed to be critical for mitochondrial translation. This MTFMT enzyme is required for mitochondrial translation initiation, therefore, in some patients with Leigh Syndrome, without the expression of MTFMT, the mitochondrial respiration is insufficient to provide energy for cellular metabolism as well as to operate the organ system properly. In my research, besides the well-validated role of MTFMT in mitochondria, my aim is to discover the new role of MTFMT upon mitochondrial and ER stress.
My second recent research project is to identify the role of a high phosphate diet on rodent metabolism. The increasing fast food consumption containing a high amount of addictive ingredients including phosphate can be a reason for the higher risk of a cardiovascular event in these people. Therefore, understanding the impacts of a high phosphate diet on metabolism can provide a lot of insight to prevent unexpected outcomes triggered by high phosphate intake in daily life.

Selected publications
1. Oxidative stress by Ca2+ overload is critical for phosphate-induced vascular calcification
https://journals.physiology.org/doi/abs/10.1152/ajpheart.00305.2020

2. Inhibition of the ERK1/2-mTORC1 axis ameliorates proteinuria and the fibrogenic action of transforming growth factor-β in Adriamycin-induced glomerulosclerosis
https://www.kidney-international.org/article/S0085-2538(19)30522-8/fulltext

3. Mitochondrial Ca2+ Uptake Relieves Palmitate-Induced Cytosolic Ca2+ Overload in MIN6 Cells
http://www.molcells.org/journal/view.html?doi=10.14348/molcells.2019.0223
Last Updated: 28 February 2022