Norrisa Adriana Haynes, MD, MPH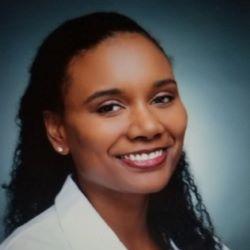 ---
More Info
Associate Scholar
 Assistant Professor | Yale Medicine
 Haiti
  Golbal Cardiovascular Health | Non-communicable disease
Languages: Conversational in Spanish, Haitian Creole (Proficient)
BIO ATTACHED
Norrisa Haynes MD, MPH is a third year cardiology fellow at UPenn. Dr. Haynes attended Yale for undergrad and Columbia University for medical school and internal medicine residency. She obtained her MPH from Harvard School of Public Health. Through Partners in Health (PIH), Dr. Haynes worked at Hôpital Universitaire de Mirebalais (HUM), in Haiti. She worked as a junior attending for 2 years at HUM while also working as a Harvard instructor and Brigham hospitalist. Dr. Haynes is interested in pursuing a career in global cardiovascular health and continues to provide pertinent cardiovascular educational content to physicians-in-training in Haiti.
RECENT GLOBAL HEALTH PROJECTS
Over one academic year (May/2019-May/2020), iCARDs-Haiti consisted of 20 biweekly live-streamed, synchronous didactic lectures broadcast to internal medicine residents at Hôpital Universitaire de Mirebalais (HUM) in rural Haiti. HUM is 1 of only 4 internal medicine training programs in the country, training 20-25% of IM residents in the country. The iCARDs curriculum was established to provide educational content through a virtual classroom that was created using commercially available video conferencing and data-sharing platforms. Pre and post-lecture surveys and an end of the course survey were administered to assess the impact of the curriculum. Curriculum analysis revealed that the curriculum had a noteworthy impact on trainee learning.
SUGGESTED PUBLICATIONS
Haynes NA, Saint-Joy V, Swain J, et al Implementation of a virtual international cardiology curriculum to address the deficit of cardiovascular education in Haiti: a pilot studyBMJ Open 2021;11:e048690. doi: 10.1136/bmjopen-2021-048690
Last Updated: 10 October 2022