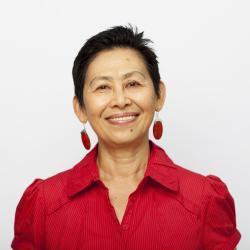 ---
More Info
International Scholar
 Professor of Behavior Sciences | VinUniversity College of Health Sciences
 Australia | Iraq | Jamaica | Japan | Malaysia | Thailand | United States | Vietnam
  Breast cancer | Global Cardiovascular Disease | HIV/AIDS | Mental health | Sexual Violence | Social aspects of the pandemic
Languages: English (fluent) Thai (fluent); Laos (speaking & writting)
BIO STATEMENT
I am a medical anthropologist and have interests in the health of women, children, immigrants, refugees, older people, and transgender individuals. I am interested in issues relating to motherhood, reproductive health, sexuality, sexual health, mental health, HIV/AIDS, breast cancer, and the global pandemic. I have undertaken many research projects with refugee and immigrant women in Australia and qualitative research with women living with HIV/AIDS and breast cancer in Thailand and Malaysia. I am a qualitative researcher and have written several textbooks on this approach. At VinUniversity, my focus will be on health behaviors and social determinants of health.
RECENT GLOBAL HEALTH PROJECTS
Experiences of living with HIV/AIDS in Thailand.

Experiences of breast cancer in Thailand and Malaysia.

Sexual violence and trans women of color in Australia.
SELECTED PUBLICATIONS
Mansour, Reima & John, James & Liamputtong, Pranee & Arora, Amit. (2021). Food Insecurity and Food Label Comprehension among Libyan Migrants in Australia. Nutrients. 13. 2433. 10.3390/nu13072433.
Phanwichatkul, Titaree & Schmied, Virginia & Liamputtong, Pranee & Burns, Elaine. (2021). The perceptions and practices of Thai health professionals providing maternity care for migrant Burmese women: An ethnographic study. Women and Birth. 10.1016/j.wombi.2021.07.003.
Last Updated: 28 February 2022