Sununguko Wata Mpoloka, PhD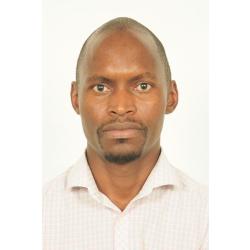 ---
More Info
International Scholar
 Associate Professor | University of Botswana, Department of Biological Sciences
 Botswana
  Vaccine Research & Development | Vaccines
Languages: English
Bio statement
I am currently an Associate Professor in the Department of Biological Sciences at the University of Botswana, where I am involved in the teaching of both undergraduate and graduate students, as well as conducting research. My research is centered around Population Genetics, Vaccinology, and Molecular Genetics. I am currently the principal investigator in the H3Africa consortium under the auspices of CAfGEN (Collaborative African Genomics Network), which is an NIH-funded project looking at understanding the host genomic factors that determine the progression of HIV and TB in pediatrics.
Recent global health projects
1. I was part of the H3Africa Consortium as PI for the Collaborative African Genomics Network (CAfGEN) in which we studies host genomic factors influencing the progression to HIV and TB in children.

2. I am also involved in research aimed and developing vaccines for some animal diseases (specifically Lumpy Skin (LSD) and Foot and Mouth (FMD) in Botswana using a plant-based expression system.
Selected publications
1. Dorcas Maruapula, Kaelo K. Seatla,, Olorato Morerinyane, Kesaobaka Molebatsi, Jennifer Giandhari, Tulio de Oliveira, Rosemary M. Musonda, Melvin Leteane, Sununguko W Mpoloka, Simani Gaseitsiwe, (2022). Low-frequency HIV-1 drug resistance mutations in antiretroviral naïve individuals in Botswana. Medicine: Volume 101 - Issue 28 - p e29577
doi: 10.1097/MD.0000000000029577

2. Ontlametse T. Bareng, Sekgabo Seselamarumo, Kaelo K Seatla, Wonderful T. Choga, Blessing Bakae, Dorcas Maruapula, Nametso Kelentse, Natasha O. Moraka, Baitshepi Mokaleng, Patrick T. Mokgethi, Tsotlhe R. Ditlhako, Molly Pretorius-Holme, Mpaphi B. Mbulawa, Refeletswe Lebelonyane, Ebi Celestin Bile, Tendani Gaolathe, Roger Shapiro, Joseph M. Makhema, Shahin Lockman, Max Essex, Vlad Novitsky, Sununguko W. Mpoloka, Sikhulile Moyo, Simani Gaseitsiwe (2022), Doravirine As-sociated Resistance Mutations in Antiretroviral Therapy Naïve and Experienced Adults with HIV-1 subtype C Infection in Botswana, Journal of Global Antimicrobial Resistance. doi: https://doi.org/10.1016/j.jgar.2022.08.008

3. Chao Zhang, Anurag Verma, Yuanqing Feng, Marcelo C. R. Melo, Michael McQuillan, Matthew Hansen, Anastasia Lucas, Joseph Park, Alessia Ranciaro, Simon Thompson, Meagan A. Rubela, Michael C. Campbell, William Beggs, Jibril Hirbo, Sununguko Wata Mpoloka, Gaonyadiwe George Mokone, Regeneron Genetic Center, Thomas Nyambo, Dawit Wolde Meskel, Gurja Belay, Charles Fokunang, Alfred K. Njamnshi, Sabah A. Omar, Scott M. Williams, Daniel J. Radera , Marylyn D. Ritchiea , Cesar de la Fuente-Nunez, Giorgio Sirugo, and Sarah A. Tishkoff (2022). Impact of natural selection on global patterns of genetic variation and association with clinical phenotypes at genes involved in SARS-CoV-2 infection . PNAS Vol 119 No 21 e2123000119 https://10.1073/pnas.2123000119

4. Elliot Mpolokang Fana, Sununguko Wata Mpoloka, Melvin Leteane, LaToya Seoke, Kelebogile Masoba, Mokganedi Mokopasetso, Aobakwe Rapharing, Tshephang Kabelo, Patricia Made, Joseph Hyera (2021), A Five-Year Retrospective Study of Foot-and-Mouth Disease Outbreaks in Southern Africa, 2014 to 2018, Veterinary Medicine International, vol. 2021, Article ID 7438809, 11 pages, https://doi.org/10.1155/2021/7438809

5. Samuel Kyobe, Savannah Mwesigwa, Eric Katagirya, Misaki Wayengera, Fred Ashaba Katabazi, Edgar Kigozi, Grace Paul Kisitu, Angella Mirembe, Betty Nsangi, John Farirai, Gabriel Anabwani, Gaone Retshabile, Busisiwe Mlotshwa, Lesedi Williams, Koketso Morapedi, Jacqueline Lugemwa Kyosimire, Masego Johnstone Tsimako, Edward Mugwiga Wampande, Lesego Ketumile, Chester Wayne Brown, Bhekumusa Lukhele, Ishmael Kasvosve, Moses Lutaakome Joloba, Sununguko Wata Mpoloka, Graeme Mardon, Adeodata Rukyarakare Kekitiinwa, Matshaba S Mogomotsi, Neil Hanchard (2021). Exome Sequencing Reveals a Putative Role for HLA-C*03:02 in Control of HIV-1 in African Pediatric Populations. Frontiers in Genetics, section Human and Medical Genomics 1586:2021
Last Updated: 17 October 2022