Vinay M. Nadkarni, MD, MS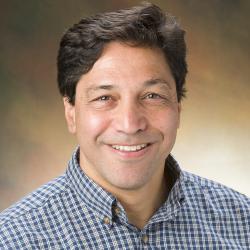 ---
More Info
Scholar
 Professor, Anesthesiology, Critical Care, and Pediatrics | University of Pennsylvanian
 India
  Critical care | Emergency Medicine | Resuscitation Science
Languages: English (native), French (Basic)
Bio statement
Professor of Anesthesiology, Critical Care and Pediatrics; President Society of Critical Care Medicine 2023-2024; International Liaison Committee on Resuscitation; World Health Federation of Pediatric Intensive and Critical Care Societies; Founding Director of CHOP Academy for Resuscitation of Children and Pediatric Global Resuscitation Alliance. Recognized with AAP Distinguished Lifetime Award and AHA International Impact Award.
Recent global health projects
Pediatric Global Resuscitation Alliance as the data coordinating center for an international 60 center quality improvement and research "learning laboratory" to contextualize training and improve the process of care and outcomes.

ABC Active Bleeding Control-Stop the Bleed program in India to address preventable morbidity and mortality from road traffic accidents, using scalable and innovative methods to train lay first responders and amplify the dissemination through school children.
Selected Publications
James EJG, Vyasam S, Venkatachalam S, Sanseau E, Cassidy K, Ramachandra G, Rebekah G, Adhikari DD, Deutsch E, Nishisaki A, Nadkarni VM. Low-Cost "Telesimulation" Training Improves Real Patient Pediatric Shock Outcomes in India. Front Pediatr. 2022 Jul 26;10:904846. doi: 10.3389/fped.2022.904846. PMID: 35967566; PMCID: PMC9364444.
Last Updated: 03 February 2023