Leadership Essentials: Fundamentals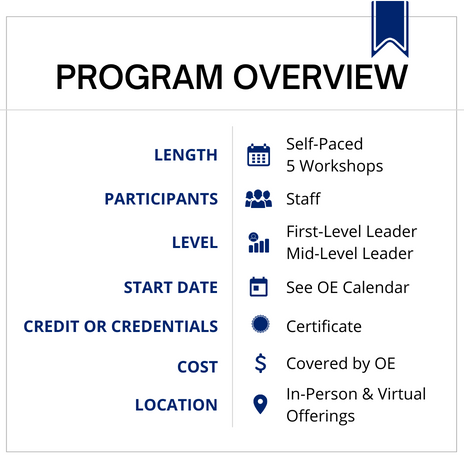 Program Overview
Leadership Essentials: Fundamentals is our beginning tier leadership development program. At the Fundamentals tier, participants are introduced to theoretical information, skills and behaviors that heighten participant's knowledge and understanding of effective leadership practices through sequential learning opportunities. Participants may self-register in the program and workshops in Workday.
To receive the certificate, participants must complete all 5 instructor-led workshops.
---
Who should attend?
Open to all PSOM staff who aspire to enhance their basic leadership knowledge and skills.
---
Workshop Topics
The Fundamentals tier of the program includes five 3.5-hour instructor-led workshops. Participants will be responsible for their registration through Workday. These sessions are experiential in nature and give participants an opportunity to further explore the theory, skills and behaviors.
Addressing Emotions at Work
Influencing Outcomes through Others
Shaping a Motivational Workplace
Guiding Collaborative Discussion
Building Team Pride & Purpose
FAQ
Enrolling in the certificate program is completely voluntary. You can either complete all 5 workshops to receive the certificate or only attend the workshops of your choice.
Yes. Completion of the LEF or LEA certificates meets the prerequisite criteria for LEI. However, there is additional nomination criteria that must be met in order to be selected for each cohort. You can learn more about the prerequisite and nomination criteria for LEI here.