Penn Medicine REDCap

REDCap was created by Vanderbilt University and is available at Penn Medicine via a license agreement. Penn Medicine's REDCap is a HIPAA-compliant web platform for building and managing online databases and surveys. REDCap's streamlined process for rapidly creating and designing projects offers a vast array of tools to fit many data collection strategies, such as single-/multi-site studies, longitudinal studies, cross-sectional studies, collecting data via surveys, and/or a combination. REDCap provides automated export procedures for seamless data downloads to Excel and common statistical packages (e.g., SPSS, SAS, Stata, R).
IMPORTANT NOTES
Only Penn Medicine's REDCap instance is HIPAA-compliant
Penn Medicine's REDCap is NOT a 21 CFR Part 11-compliant system and should not be used for studies reporting to the FDA (i.e., IND, IDE, abbreviated IDE, etc.)
REDCap e-Consent
REDCap is an electronic data capture tool that may also be used for capturing consent for studies that do not require part 11 compliant signatures.
Things to consider regarding REDCap for e-Consenting:
Recommended for all studies that are NOT under an IND/IDE
Benefits:

HIPAA compliant for e-signatures

Easy self-service workflows- upload the consent and manage sending to subjects
Subject signs and document accessible by research team for additional signature
Need team to have active REDCap and PMACS accounts

There is no cost associated with use of the application
Resources
Access for new Penn Medicine REDCap Accounts
To obtain a Penn Medicine REDCap account, users must have active PennKeys and PMACS credentials.
Users with the above requirements must complete the below steps, in order, to obtain a new Penn Medicine REDCap account:
Required eLearning (REDCap: Best Practices for Maintaining HIPAA Compliance and Protecting Personal Health Information (PHI))
Submit account creation request via this submission form
Penn Medicine REDCap Accounts for External Users (non-Penn staff)
Non-Penn employees/external users will need a Guest PennKey. A PennKey is a unique username required to authenticate your identity for access to many of Penn's online resources and systems, including PMACS credentials, Penn Medicine REDCap, and Workday Learning, the Learning Management System.
External users should follow these steps:
A Penn staff member "sponsoring" the external user should submit a request for a guest PennKey
Access for existing Penn Medicine REDCap Accounts
Log in to the Penn Medicine REDCap website using your PMACS account username and password.
If you are unable to log into your account, please contact PSOM REDCap Support. Provide as much information as possible when completing the form.
Penn Medicine REDCap Training
Once your Penn Medicine REDCap account is created, watching all REDCap training videos is STRONGLY RECOMMENDED before building your first project.
OCR hosts three, monthly training courses for using Penn Medicine REDCap.
REDCap 101
REDCap 101 instructs users on basic REDCap functionality and building REDCap projects. After completing this 90-minute, instructor-led course, users will obtain a solid foundation on building REDCap projects that result in cleaner data sets. Topics include reviewing basic functions (i.e., field types, validation, etc.), using branching logic and Action Tags, designing REDCap surveys, and reviewing exported project data.
For more information, see the blended course offering in Workday Learning.
REDCap 201
Building on the basics covered in REDCap 101, this 3-hour, instructor-led course provides instruction on more complex REDCap functionality. Topics include a more in-depth review of survey functionality, survey invites, creating longitudinal projects, and how to use REDCap's Data Resolution Workflow to create queries on project data. To register, users must complete the REDCap 101 course and have an active Penn Medicine REDCap account.
For more information, see the blended course offering in Workday Learning.
OCR Penn's REDCap – Advance
Presented by Shawn Ballard, Technical Director, Software Systems Development at UPenn, this monthly lecture series presents REDCap functions that research teams can use to increase their efficiency while using the Penn Medicine REDCap application. Each lecture covers current and the latest application enhancements. NOTE: this is not a hands-on course; however, users will come away with an understanding of the covered functionalities.
For more information, see the course offering in Workday Learning.
REDCap was created by Vanderbilt University and is available at Penn Medicine via a license agreement between these two institutions. Additionally, REDCap is available at many institutions around the world using these agreements. This makes finding resources easy by using search engines. However, each organization can customize their REDCap system. It's important to understand this because functionality described by another institution may not be available in Penn Medicine's REDCap or may not work exactly the same.
The resources provided here are specific to Penn Medicine's REDCap.
Penn Medicine REDCap Support
For login issues and/or questions regarding REDCap functionality/troubleshooting, email the REDCap Support Team. Alternatively, you can also use this REDCap Support Help Form (no login required).
For issues with your PMACS credentials, or to reset your PMACS password, please go to PMACS Password Reset.
FAQ
REDCap provides an in-site FAQ module.
After logging in, look for the "Help & FAQ" link in the menu at the top of the screen.

All FAQs will appear. You can scroll through all FAQs or click the tab that groups specific FAQs together. You can also use the search function for specifics.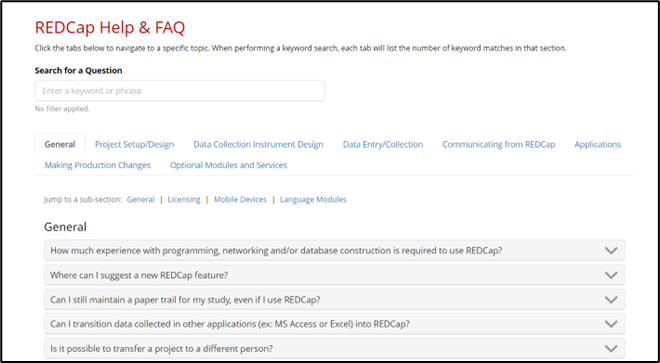 Policy Documents
SOP 405: REDCap Training and Access (Standard Operating Procedure)
Tip Sheets