New Milestones Achieved: Welcome Back Fall 2015
Welcome Back Fall 2015: Reaching New Milestones
---
August 31, 2015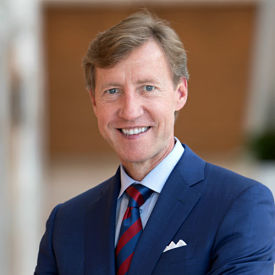 Dear Faculty, Students and Staff:
Earlier this month we welcomed a new class of medical students and graduate students, symbolizing the beginning of another academic year. At the White Coat Ceremony, 156 students crossed the stage and slipped on their white coats for the first time, beginning their training in our noble profession. Of note, this is the Perelman School of Medicine's 250th entering class. We also welcomed 96 PhD students to our Biomedical Graduate Studies program (BGS). This is a special year for BGS, as we will commemorate its 30th anniverary on October 8-10 with a series of events, including our first alumni weekend. Although we have been granting PhD degrees for centuries, this anniversary marks the integration of 13 formerly independent graduate groups into our current interdisciplinary program.
These historic milestones for our medical and graduate programs compel us to think strategically for the long term, something we do exceptionally well at Penn. Our strategic plan, adopted in 2013 and intended to guide us through 2017, is well on its way to full implementation and will be completed well ahead of schedule. Already, our careful planning is paying dividends as evidenced by: robust research funding and ever more impactful publications; investments in faculty, core facilities, and infrastructure; the expansion and exceptional financial performance of the health system; highly integrated patient care, and a culture of collaboration and innovation that foreshadows robust future success.
I will highlight just a few accomplishments that occurred over the summer. The integration of Lancaster General Health into the University of Pennsylvania Health System gained final approval. The new South Tower research and faculty office space is nearing completion atop the Jordan Medical Education Center. With completion of the temporary bridge connecting HUP and PCAM, you will soon witness the stepwise demolition of Penn Tower. The world's first pediatric bilateral hand transplant was performed by Scott Levin and a surgical team from Penn and CHOP. And to highlight just two of many notable scientific advances, David Weiner and colleagues reported that a novel gene-based vaccine can, for the first time, induce protective immunity in animals against the Middle East Respiratory Syndrome (MERS), and a phase one clinical trial led by Alain Rook and Joel M. Gelfand showed that a topical therapy for patients with early stage T cell lymphoma causes a systemic immune response against cancerous cells from treated and untreated lesions.
As the new semester begins, this momentum will continue. In addition to the imminent opening of the South Tower research space, the first phase Richards renovation is complete and Stemmler Hall renovation is underway. Also, the first full academic year of classes will be offered in the Jordan Medical Education Center.
As I look further ahead and consider the investments we are making in our future, I am confident this progress will continue. But progress also requires a fresh reevaluation at every stage of its advance. Thus, it is relevant to ask, what more can we do to maintain and accelerate our momentum? It's a question that I address with our senior leadership on a regular basis. However, this is a conversation that calls for broader input from the entire community. Consequently, I will be initiating a series of town hall meetings over the course of the year, where I look forward to discussing with all of you new ways to capture the full potential of our academic medical center.
Additional information about the first town hall meeting will be forthcoming. In the meantime, a warm welcome back to all. I hope you have had an invigorating summer and wish you a most rewarding and productive academic year.
With best regards,


J. Larry Jameson, MD, PhD