Nancy A. Speck, PhD, Appointed Department of Cell and Developmental Biology Chair
Appointment of Nancy A. Speck, PhD, as Chair of the Department of Cell and Developmental Biology
---
October 13, 2015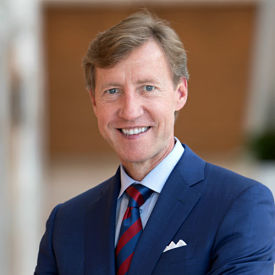 Dear Faculty, Students and Staff:
I am delighted to announce the appointment of Nancy A. Speck, PhD, for a six-year term as Chair of the Department of Cell and Developmental Biology, effective October 1. A leader in the field of blood cell development, Dr. Speck has been a member of the department since 2008. She currently serves as Associate Director of the Institute for Regenerative Medicine, co-leads the Hematologic Malignancies Program at the Abramson Cancer Center, and is an investigator at the Abramson Family Cancer Research Institute.
Over the course of her more than 30-year career, Dr. Speck has made key contributions to the understanding of developmental hematopoiesis as well as the translation of these findings into the pathogenesis of leukemias. Her contributions to the field include the identification of proteins Runx1 and CBFβ, mutations of which are frequently found in leukemia. Dr. Speck's careful biochemical and molecular characterization of these factors — both before and after linking them to leukemia — has enabled rapid progress in the understanding of their role in normal and malignant hematopoiesis.
Dr. Speck has published more than 100 peer-reviewed articles in leading journals. In addition to her contributions to basic science, she serves as a reviewer for Blood, Nature, Nature Genetics, Cell Stem Cell, Cancer Cell, Science, PNAS and numerous other publications. Dr. Speck has served on and chaired study sections at the National Institutes of Health, the Leukemia and Lymphoma Society, and the American Society of Hematology (ASH). Among numerous awards and accolades, she is the recent recipient of the 2015 Henry M. Stratton Medal for Basic Science from ASH.
Dr. Speck earned her PhD in biochemistry from Northwestern University in 1983 and completed postdoctoral research fellowships in retroviral pathogenesis and eukaryotic gene regulation at the Whitehead Institute for Biomedical Research and at MIT. She opened her own laboratory at Dartmouth Medical School in 1989, progressing from Assistant Professor of Biochemistry to Professor, and held the James J. Carroll Chair of Oncology, before joining the Penn faculty in 2008 as Professor of Cell and Developmental Biology.
Beyond her many institutional and professional commitments, Dr. Speck is well-known for her mentoring and dedication to the career development of young investigators. She has articulated a bold and highly collaborative vision for the future of the department. Her ambitious goals build on the foundation of excellence sustained under the stewardship of her predecessor, Jon Epstein, who assumed the role of Executive Vice Dean and Chief Scientific Officer of Penn Medicine on July 1. I look forward to working with Dr. Speck to extend the breadth and depth of science in the department, which is one of the very best in the country.
Please join me in offering most sincere congratulations to Dr. Speck on her appointment as Chair of the Department of Cell and Developmental Biology.
With best regards,


J. Larry Jameson, MD, PhD