Jensen and Hennessy Elected to National Academy of Medicine
Jensen and Hennessy Elected to National Academy of Medicine
---
October 21, 2015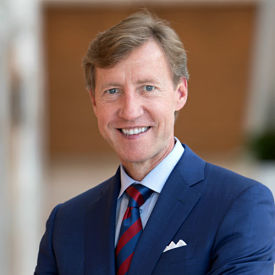 Dear Faculty, Students and Staff:
I take great pride in sharing with you the wonderful news that our colleagues Frances Jensen, MD, FACP, and Sean Hennessy, PharmD, PhD, have been elected to the National Academy of Medicine (NAM). The election of new members was announced earlier this week at NAM's annual meeting.
Election to NAM, formerly the Institute of Medicine, is one of the highest honors in our field and recognizes individuals who have demonstrated outstanding professional achievement and commitment to service. In the words of NAM President Victor J. Dzau, Academy members represent "the brightest, most influential, and passionate people in health, science, and medicine in our nation and internationally."
Drs. Jensen and Hennessy bring to 66 the number of current and emeritus members of the Penn Medicine community who are NAM members.
Along with Drs. Jensen and Hennessy, Josep Dalmau, MD, PhD, Adjunct Professor in Neurology from the Universitat de Barcelona, Dr. Gary Gilliland, formerly Vice Dean and Vice President of Precision Medicine and now President and Director of the Fred Hutchinson Cancer Research Center in Seattle, and Dennis E. Discher, PhD, of the School of Engineering and Applied Science, were among the 70 regular members and 10 international members elected to NAM this year.
Dr. Jensen is professor and chair of the Department of Neurology and co-director of the Penn Medicine Neuroscience Center. She is an international leader in the pathophysiology of epilepsy and stroke and the mechanisms of brain development. Her book, The Teenage Brain, was published earlier this year to widespread acclaim and she lectures extensively on the topic.
Dr. Hennessy, professor of epidemiology and of systems pharmacology and translational therapeutics, is one of the world's leading experts on the effect of drugs and medical devices in populations. Among numerous impactful studies, his work on the effectiveness and safety of the SA14-14-2 vaccine for Japanese encephalitis has led to the immunization of millions of children per year in countries in Asia and South Asia.
Please join me in congratulating Drs. Jensen and Hennessy on this tremendous honor.
With best regards,


J. Larry Jameson, MD, PhD