Ronald G. Collman, MD, Appointed Director of the Penn Center for AIDS Research
PENN CFAR LEADERSHIP TRANSITION
---
November 30, 2015
To:Faculty, Students and Staff
From:J. Larry Jameson, MD, PhD
Re: Leadership Transition in the Penn Center for AIDS Research
---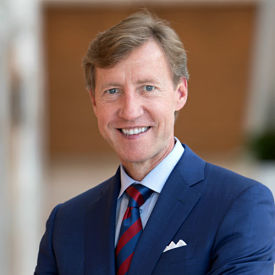 I write to announce that after 17 years of impactful and excellent leadership as the founding director of the Penn Center for AIDS Research (CFAR), James A. Hoxie, MD, will be transitioning from this role. CFAR Co-Director Ronald G. Collman, MD, has been appointed as the new Director. The leadership transition, which Jim and Ron have been contemplating for some time, takes effect December 1. I am fully confident that their close partnership and careful transition planning will maintain the Center's great momentum and extend its leadership in HIV/AIDS science.
The Penn CFAR, one of 19 NIH-funded CFARs, is one of the most highly respected in the country. Established in 1998, it has become a model of collaborative, interdisciplinary team science, with approximately $40 million in annual NIH funding. Jim's inclusive leadership has helped to facilitate a cohesive academic and scientific community of more than 150 affiliated faculty members from schools and departments across the University, as well as CHOP and the Wistar Institute.
Members of the Penn CFAR are national and international leaders in advancing all aspects of the HIV/AIDS research agenda, contributing to a Top 10 ranking in the 2015 U.S. News survey of HIV/AIDS programs in the nation's medical schools. In addition, the Center's vigorous pilot grant program has been extremely effective in attracting young investigators from diverse fields. The Penn CFAR has also been instrumental in establishing strong national networks, including the Social Behavioral Science Research Network (SBSRN), the Inter-CFAR HIV/AIDS Related Malignancy network (ICHARM), and the National Coalition of CFAR Community Advisory Boards.
In addition to its scientific leadership, the Penn CFAR has been in the forefront of the effort to combat AIDS in developing countries, leveraging the Botswana-UPenn partnership to develop a treatment program in that country that serves as an international model. Webcasts of weekly HIV grand rounds typically attract viewers in some two to three dozen countries across six continents, another measure of the CFAR's international impact.
Ron, who has served as CFAR co-director since 2008, has been associated with the Center from its inception as director of the Viral/Molecular Core. I expect that he will sustain the Penn CFAR's tremendous activity and highly collaborative approach, which includes strong partnerships across campus, including, among others, the Department of Microbiology, the Institute for Immunology, the Botswana-UPenn Partnership, the Division of Infectious Diseases, and the Penn Mental Health AIDS Research Consortium.
As he transitions out of the Director's role, Jim will be focusing on his laboratory work, which will continue to address themes relating to viral and cellular determinants of HIV and SIV pathogenesis and the ability of these viruses to evade host immune responses, work that is highly relevant to his ongoing interest in HIV vaccines. Please join me in extending heartfelt gratitude to Jim as he embarks on the next phase of his impactful career and on congratulating Ron in his new role as Director of the Penn CFAR.