MLK Day and Our Pursuit of Social Justice
MLK Day and Our Pursuit of Social Justice
---
January 13, 2016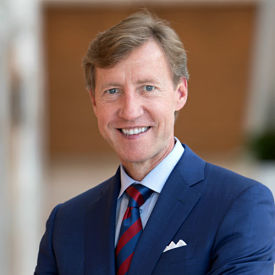 Dear Colleagues and Students:
As the New Year begins, I encourage you to mark your calendars for the second annual Dr. Martin Luther King, Jr., Health Equity Symposium on January 27. This important new tradition at the Perelman School of Medicine celebrates Dr. King's tremendous legacy and underscores our community's long-standing commitment to social justice.
MLK Day arrives this year as our national conversation about social justice and the frustrating persistence of barriers to inclusion has intensified. It is therefore even more timely to remind ourselves that the pursuit of social justice, and by extension health equity, is deeply embedded in the core values of professionalism as summarized in the Physician Charter.
I am grateful for the many ways our community affirms its commitment to health equity with actions, and not just words. I could cite numerous examples but will highlight two that illustrate the significant impact of our sustained endeavor. Puentes de Salud, which has provided low-cost primary care and a range of social services to Philadelphia's Latino immigrant community for nearly a decade, moved into its first permanent home this past summer near Penn Medicine Rittenhouse, in donated space that we helped to renovate. The new facility will accommodate an expected 10,000 visits a year, with excellent care provided by scores of faculty and student volunteers. Years ago, members of our Penn family noticed a growing number of immigrants showing up in the emergency rooms of HUP and Pennsylvania Hospital with chronic illnesses that could have been prevented, and they took action. The program they founded is now a national model for immigrant health and wellness.
Another initiative I am proud to highlight are our efforts to support new educational opportunities for local high school students. One program, started in 1998 in collaboration with the Netter Center for Community Partnerships, engages Sayre High School students in classes taught by medical and undergraduate students. This pipeline program not only foreshadows life working in a health care field, but also provides practical skills in literature searches and public speaking. A second initiative, the Penn Medicine Pipeline Program, now in its eighth year, is run through the health system and offers West Philadelphia high school students a unique opportunity to prepare for the workforce and achieve success in college through mentoring, internship experiences, and coverage of college tuition. In the past four years, 100 percent of these students have graduated high school and been accepted to college! These and many other pipeline efforts are enhancing the career opportunities for members of our local community.
Turning to our efforts related to faculty and student diversity, we recognize that barriers to sustainable change persist. In this regard, I am proud that we do not flinch from self-reflection or engaging in difficult conversations. We recently participated in the Diversity Engagement Survey, a national instrument developed with the support of AAMC to improve inclusion efforts in academic medicine. The survey involved students, faculty, clinical and non-clinical staff. The results indicate that we have work to do in the area of cultural competency — the ability to work effectively with individuals from different backgrounds. In response, we are developing targeted initiatives to enhance our efforts in this domain.
Within 30 years — a period encompassing the careers of our current students — demographic changes will leave our country with no ethnic majority, according to U.S. Census Bureau forecasts. To provide effective and compassionate clinical care, our diverse society requires a culture in which all feel welcome and valued, both as individuals and as members of the groups with which they identify. Add to this the mounting evidence, from inside and outside medicine, that inclusion and diversity foster creativity and propel organizations to perform demonstrably better.
I want to offer a special thank you to Dr. Eve Higginbotham, Vice Dean and head of the Office of Inclusion and Diversity (OID), for her creative and tireless leadership in her new role. She and the leaders of our inclusion and diversity programs throughout our academic medical center are inspiring steady progress in the recruitment and retention of a more diverse faculty and student body, both in the MD and PhD programs. Over 40 diversity search advisors have been trained and are now engaged in our efforts to identify and attract new talent. We have developed new LGBT health initiatives and renewed our focus on health care and employment opportunities for military service members and veterans. In aggregate, these activities require the efforts of hundreds of faculty and students. I am grateful to all of you for helping us to create a more inclusive culture at Penn Medicine.
It has been over 50 years since Dr. King's famous "I Have a Dream" speech. There has been much progress since then. However, hardly a day passes that we are not reminded of ongoing disparities, discrimination, and hateful speech. As we celebrate Dr. King's legacy, we should each ask ourselves — what are we doing today that will be looked upon with antipathy a half century from now? Let's seek to identify and change these features of our society, whether overt or subtle, so that his dream is manifested in a better reality for all.

With best regards,


J. Larry Jameson, MD, PhD