Examples of High Impact at Penn Medicine: 2016 Yearend Message
A Year of Outstanding Impact
---
May 18, 2016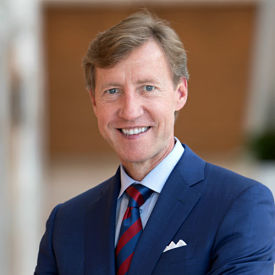 Dear Colleagues and Students,
Innovation, inclusion, and impact are fundamental features of our culture of discovery at Penn Medicine and have been key themes in our strategic plan. With the excitement of graduation fresh in our minds, it's timely to reflect on how your creativity helped make for a truly outstanding year.
Let me begin by pointing out two concrete measures of excellence. The academic year began with the Abramson Cancer Center receiving an "exceptional" rating from the National Cancer Institute, the highest possible rating for an NCI cancer center undergoing five-year review. Our leadership in translational research was also underscored this year, when the CTSA grant, which is the largest grant at Penn, was renewed with the highest score in the country.
These indices of excellence reflect the ongoing vibrancy of our academic medical center in the year following the momentous celebration of the 250th anniversary of our school's founding. We have found new solutions to a broad range of challenges – whether these involve the need for new methods of learning in an age of information overload, diseases in need of new treatments, or more effective implementation of health care delivery.
This first full year of classes in the Jordan Medical Education Center was marked by curricular innovations, such as a new course on the use of ultrasound and the new course that integrates epidemiology with cancer biology. The 2016 graduating class had an exceptional residency match across all disciplines, with the largest share at HUP and Harvard hospitals. Also of note, celebration of the 30th anniversary of the Biomedical Graduate Studies Program in the fall underscored the high caliber of our doctoral students and the centrality of graduate education to everything we achieve as a scientific community.
In the past year, we made significant progress in the recruitment and retention of women and underrepresented minorities on the full-time faculty, including securing two Presidential Professorships. I am also enormously pleased with our continued strength in recruiting medical students from all backgrounds and the excellent results of our efforts with respect to graduate medical education. The growing diversity of our academic community enhances our ability to innovate and develop a workforce that is better prepared to meet changing societal needs.
Our pursuit of discovery was supported this year by record levels of philanthropy and private industry partnerships, an increasingly important avenue for enabling faculty innovation. Recently, for instance, our collaboration in the Sean Parker Institute's national effort to accelerate immunotherapy research was announced, and this spring the Center for Advanced Therapeutics cell-manufacturing facility opened with support from Novartis. The campus visit of Vice President Joe Biden to launch President Obama's "cancer moonshot" highlighted our leadership in this field. The Orphan Disease Center has also been highly successful in engaging patient advocacy groups and industry partners as a means to support basic research and clinical trials for a number of devastating diseases.
High profile accolades such as these rest on a foundation of basic discovery. Advances in myriad fields propelled the number of scientific papers published in top-tier journals in the past year to its highest level ever. Many of those papers involved interdisciplinary teams of investigators affiliated with our centers and institutes. In this era of collaboration, I'm pleased that we added to their roster this year with the launch of the Precision Medicine Center and the Center for Global Health.
You have no doubt noticed the Penn Tower demolition making way for the planned New Patient Pavilion. This important project is an emblem of our commitment to providing the highest quality patient care in facilities for the 21st century. Correspondingly, our expanding presence in the regional market, with new facilities planned in Radnor and Cherry Hill, will increase access to our outstanding physicians, nurses, and other health care providers. With respect to advancing patient care, I would also commend the improvements spurred in the past year by the Penn Center for Health Care Innovation. Their solutions for closing the gap between theoretical best practices and real world health care are increasingly serving as national models.
In order for novel ideas to come to life, a robust administrative structure that supports faculty creativity and innovation is essential. We are fortunate to have outstanding staff members across all reaches of our institution.
The momentum I have briefly catalogued makes our environment exciting on a daily basis. As the summer approaches, I reiterate my tremendous appreciation and respect for the dedication, hard work and loyalty that underlie our ongoing success.
With best regards,


J. Larry Jameson, MD, PhD