The Power of Big Ideas: Welcome Back Fall 2016
The Power of Big Ideas: Welcome Back Fall 2016
---
September 6, 2016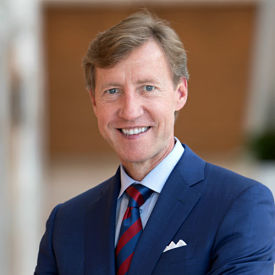 Dear Faculty, Students and Staff:
As the new academic year begins, I want to highlight the power of big ideas, and especially their ability to forge common purpose and spur long-term thinking.
During our 250th anniversary celebration last year, we highlighted Penn Medicine's impressive history of transformative discoveries that have changed science and health care. In recent years, with the development of dozens of innovative Centers and Institutes, we are accelerating the rate of discovery and tackling some of the most challenging, high-profile problems in medicine today. Indeed, as Benjamin Franklin would have hoped, Penn Medicine is very effective at implementation science -- bringing discoveries and ideas into practice for the public good.
Over the summer, the first clinical trial in which CRISPR technology will be used to engineer immune cells to better kill cancer cells achieved regulatory approval. The new Center for Advanced Cellular Therapeutics (CACT) facility in which these cells are created is unique in academic medicine. Such bold thinking pervades Penn Medicine. Other examples of ambitious projects at various stages of development include: therapeutics that overcome the blood-brain barrier; creating cell-penetrating antibodies; engineering universal T cells; designing gene therapy approaches for rare diseases such as inherited blindness, as well as common diseases such as coronary heart disease; and team-based approaches to reducing deaths from opioids. These and many other important initiatives are being pursued with persistence and creativity by our faculty. It is truly inspiring to see the wide range of topics in the sights of faculty members who are at the forefront of just about every "moonshot" challenge in biomedical science.
One reason Penn has become the epicenter for so many research areas is our culture of innovation, excellence, and collaboration. These are values that attract fresh talent to our institution and sustain long and productive careers. This culture and creativity is championed and supported by outstanding leaders of our Departments and Centers throughout Penn Medicine. Our leaders also appreciate the power of diversity and inclusion to create and implement big ideas. They have supported a wide array of inclusion programs that impact UME students, residents, clinical fellows, graduate students, and post-docs, as well as faculty.
We are fortunate to be starting the academic year in a strong financial position that balances support for all our missions. The health system closed another fiscal year in June with a robust operating margin that allows ongoing investments in our clinical facilities and programs, as well as our research and education missions. These investments foreshadow future success and provide enormous benefits for our patients and society at large. Increased research funding (approximately $620M) and robust philanthropic support (greater than $200M) also continue to fuel our research and academic programs. This financial strength directly impacts strategic thinking, allowing us to continue to pursue important goals and bold ideas.
Big ideas also permeate the clinical and teaching missions. The demolition of Penn Tower this summer will make way for a new inpatient pavilion and is a reminder of our important role as a leader in health care, particularly in advanced medicine. This project follows the successful opening of the trauma center at Penn Presbyterian last year. The ongoing integration of clinical services throughout our expanded health system is less visible, but has a major impact on patient care. We take great pride in the fact that when a patient enters the Penn Medicine health system, we have teams of physicians, nurses, and other health care professionals who work together, across multiple departments and specialties, to insure that the correct diagnosis is made and that effective treatment plans are developed and implemented. Novel programs such as the Penn Center for Community Health Workers aim to improve access and health outcomes by recognizing the importance of social determinants of health and developing new approaches to care coordination. New outpatient facilities in Valley Forge and Cherry Hill, and plans for a new outpatient facility in Radnor, will further improve access to care within our region.
With the opening of the new Jordan Medical Education Center, we are reinventing medical education for the future. No other peer institution has a higher proportion of students graduating with MD+ degrees. Of 140 students in the 2016 graduating class, more than 65 percent received dual degrees or certificates, equipping them with skills and leadership capabilities to shape their careers for the long term.
It is a pleasure to be starting a new academic year with each of you. The power of your big ideas, coupled with effective implementation, puts the wind at our backs, improving our institution and making a major impact, whether through discovery, training, or improving the lives of our patients.
With best regards,


J. Larry Jameson, MD, PhD