Seek, Value, and Disseminate Truth: 2017 New Year's Message
A New Year's Resolution
---
January 9, 2017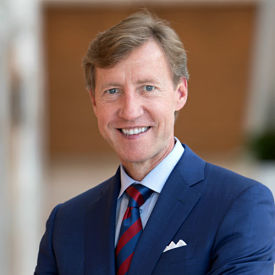 Dear Faculty, Students, and Staff,
As the New Year begins, I want to express my aspirations for Penn Medicine and highlight some of the reasons I am optimistic about 2017. As an Academic Medical Center, we are facing forces of enormous positive change. Scientific discoveries are disrupting traditional paradigms for how we understand circadian biology, epigenetics, the microbiome, neuroscience, immunology, and cancer metabolism, among other areas. In these areas of breakthrough basic and translational science, no institution is better poised to continue fundamental advances and to offer new approaches to diagnosis and treatment that improve health.
The social and environmental determinants of health are increasingly recognized as being fundamental to good health outcomes and quality of life. We are fortunate to have faculty and students who are developing novel approaches to health care delivery using the tools of behavioral economics and designing innovative strategies to engage patients and their families in their own health. In the coming months, a population health task force will help to develop our future research and educational strategies to transform population health, with great attention to our local community.
In the area of health care policy, we anticipate important changes to insurance plans and incentives that will influence approaches to health care delivery across the nation. At Penn Medicine, we have one of the few Departments focused on Medical Ethics and Health Policy, with robust collaborations via the Leonard Davis Institute, Wharton, the School of Nursing, and the School of Social Policy and Practice, among others. As an integrated Academic Medical Center, we are optimally structured to adapt nimbly to changes in the external environment. The plans for the New Patient Pavilion at the former Penn Tower site, and the recent expansion of the health system to include several strong community health systems, are examples of how Penn Medicine is adapting to changes in care delivery – we are committed to a system of care that allows patients to access Penn Medicine in a manner that best suits their clinical needs.
Trainees in biomedical sciences have access to incredibly powerful tools for discovery, but they also face daunting challenges to leverage the vast amounts of biomedical data being generated in the laboratory and in electronic medical records. This increasing pace of change in the use of informatics tools in science and medicine calls for continued evolution of our strategy to increase the value of health care data. Toward this end, we have also convened a task force to recommend strategies to leverage and integrate health data for the greatest impact on our research, education, and clinical missions.
As I have highlighted in other contexts, 2016 was an excellent year across all our mission areas. For the 19th consecutive year the Perelman School of Medicine ranked among the top five medical schools in the country, rising in 2016 to #3 in the U.S. News rankings. HUP and Presby again ranked among the top 10 hospitals in the nation. Research funding, notwithstanding federal budget constraints, climbed to $643 million, due in part to growing commercialization agreements. Clinical trial activity, which has doubled in the past five years, topped 1,000 studies in 2016. And research impact, measured by publications in top tier journals, registered a 25% increase for the third straight year. I am confident we can sustain, and even accelerate, this momentum.
2017 marks the completion of our five-year Strategic Plan – "Shaping the Future of Medicine." The planning effort we launched in 2011 provided a visionary framework and strong foundation for the success we have achieved over the past five years. As the experience of 2016 attests, we have, by any measure, become a more inclusive, innovative, integrated, and impactful enterprise -- whether in research, patient care, or education.
The upward trajectory we are traveling attests to the usefulness and durability of our planning efforts and the strength we derive from the intentional implementation of strategic goals. With its emphasis on precision medicine, innovation, interdisciplinary programs, and the enrichment of faculty life through diversity and flexibility, among other high-level goals, the Shaping the Future of Medicine Strategic Plan represents a solid framework for moving forward. But in a rapidly changing environment, we must constantly reassess and be willing to adapt our thinking as the world changes. That will be especially true in 2017, as health care reform continues to evolve and the fate of the Affordable Care Act is decided.
Therefore, we are undertaking a new planning initiative I am calling Shaping the Future of Medicine 2.0, intended to enhance our adaptability in this rapidly changing environment. This planning effort is an opportunity to be as methodical and rigorous in our thinking about the next five years, as we have been over the past five years. Our updated plan will include a number of strategic initiatives that are already underway, such as the New Patient Pavilion, clinical trials infrastructure, precision medicine, and faculty wellness. We have also identified additional areas that require a sharper focus. I have already mentioned the task forces we are forming to develop future strategies for population health and maximizing the value of health data. We will also form working groups in areas that include: Tools and Technologies for Basic Science, Faculty Engagement, and Transforming the Curriculum. In addition to outlining aspirational goals in each of these areas, I am asking the working groups to provide recommendations for transformative projects that will move the needle in measurable ways in each of these domains.
As the New Year begins, perhaps it is appropriate to sum up my aspirations for Penn Medicine in the form of a resolution: "Seek, Value, and Disseminate Truth." With such resolve, I am convinced that we will meet whatever challenges we encounter and make 2017 another year of tangible progress.
With best wishes for a happy and healthy New Year,


J. Larry Jameson, MD, PhD