Shaping the Future of Medicine 2.0: Grand Rounds Presentation to the Department of Medicine [VIDEO]
Shaping the Future of Medicine 2.0: Grand Rounds Presentation to the Department of Medicine [VIDEO]
---
March 23, 2017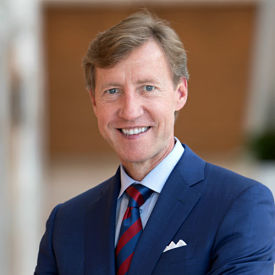 Dear Faculty, Students, and Staff,
I am writing to share with you a recent Grand Rounds presentation to the Department of Medicine. The talk, which is titled Shaping the Future of Medicine 2.0, focuses on the tremendous momentum Penn Medicine has achieved over the past five years and our planning process for the future.
We owe much of our progress to the successful implementation of our last strategic plan, Shaping the Future of Medicine. Owing to the quality of our faculty, students, and staff, the breadth and depth of our accomplishments are truly remarkable. I hope you will take a moment to reflect on them.
As we close our last strategic plan and move on to the next one, we are staking out ambitious goals and identifying exciting new areas of opportunity. Penn Medicine's future is full of promise.
---
Link: Shaping the Future of Medicine 2.0
or copy and paste the following into your web browser http://mediasite.med.upenn.edu/mediasite/Play/1546706b39f747dd946afac1e262b2941d
---
Enjoy the presentation. I welcome your feedback on what you learn about Shaping the Future of Medicine 2.0. Please send responses to evpdean@upenn.edu.
With best regards,


J. Larry Jameson, MD, PhD