Seeing Beyond Stereotypes: 2017 Yearend Message
Seeing Beyond Stereotypes: 2017 Yearend Message
---
May 22, 2017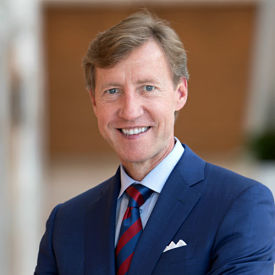 Dear Faculty, Students, and Staff,
Last week, graduation marked a transition of our medical students and graduate students into the next phase of their careers. Our role as faculty and staff is to support them, and to impart knowledge, wisdom, and skills. Of course, the reality is that we also learn much from our students! As the academic year ends, I want to thank our faculty for the hundreds of thousands of hours you invest in our educational mission. I want to thank our outstanding staff for making Penn Medicine a warm, professional, and efficient environment. I want to thank our students for inspiring us every day with your thirst for knowledge and your commitment to discovery and service.
I know that it is impractical for most of you to attend the graduation ceremonies. For that reason, I want to take this opportunity to share some lessons I learned from our speakers. Medical school graduation was in the Kimmel Center, which was brimming with proud relatives and friends of the graduates. Our graduation speaker was an alumnus, Dr. Robert Wachter, who served as the Quaker mascot when Penn's basketball team played in the 1979 NCAA tournament (they lost to Magic Johnson and Michigan State in the semifinals). He currently serves as the Chair of Medicine at UCSF. Dr. Wachter is a storyteller and the author of a best-selling book, The Digital Doctor, in which he eloquently describes how the electronic medical record (EMR) is changing the practice of medicine – for the better and the worse. One anecdote, among many, was his recollection of "radiology rounds" when Dr. Wally Miller would review chest films and enlighten students and residents by showing them the telltale signs of tuberculosis in patients being treated for presumptive pneumococcal pneumonia. While radiology rounds will not return, Dr. Wachter encouraged us to see past the digital screen to interact meaningfully with our patients and colleagues. He ended on an optimistic note by describing the productivity paradox - the lag between the adoption of digital technology and the ultimate realization of productivity gains. The key to overcoming this lag, he said, is to reimagine work formats and processes. His prediction is that the Class of 2017, and those who will follow, will reinvent digital doctors' notes, using social media-like tools, to extract more quality and value from the EMR.
At our University graduation, Senator Cory Booker delivered a stirring address, peppered with poignant examples to emphasize the importance of seeing beyond stereotypes to recognize people for their full potential and to evaluate them based on their actions. He also reminded us that while there are many great challenges to society, we should not be distracted from relishing the encounters and seemingly small things that we experience on a daily basis. I came away inspired to perpetrate "random acts of kindness" and it would be great to see this occur throughout Penn Medicine.
Thanks to all of you, we have accomplished much in the last year. Innumerable patients have received the correct diagnosis from smart, experienced clinicians. We have instituted treatments, many of which did not exist a few years ago, to extend and improve their lives. Our patient satisfaction scores have been soaring in the last few years, a reflection of the kindness and professionalism of our entire team of caregivers and staff, beginning with the valet attendant at the start of a visit and ending with the checkout attendant after the clinical encounter. Every day, our scientists publish a paper in the most influential journals – more than 375 very interesting high impact papers each year. With many talented new faculty members joining us in the last few years, I am confident that the pace of this creative and rigorous research will only accelerate. Recently, we held a groundbreaking event for the stunning new Pavilion at the site of the former Penn Tower. It will open in 2021, and none too soon, as we care for patients with increasingly complex medical and surgical problems.
Although we graduated our 250th class, and had a terrific year, we are not resting on our laurels. Over the summer, we will be finalizing a new strategic plan that has been developed with input from faculty, staff, and students from throughout the PSOM, as well as seven other schools and CHOP. It will outline an ambitious and inspiring roadmap for supporting all of our missions for the next five years. In the meantime, I want to reiterate my appreciation to all of you and convey my best wishes for the summer.
With best regards,


J. Larry Jameson, MD, PhD