FDA Review of CAR T-Cell Therapy
FDA Review of CAR T-Cell Therapy
---
July 14, 2017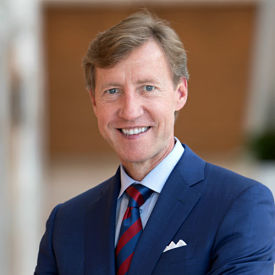 Dear Faculty, Students, and Staff:
As many of you have doubtless heard, the CAR T-cell therapy developed by Dr. Carl June and his team recently took a giant step forward at the FDA, where it was supported unanimously by an expert panel as the first-ever genetically targeted, cell-based therapy for the treatment of cancer. This scientific milestone has appropriately captured world-wide attention. When this T-cell based treatment for pediatric acute lymphoblastic leukemia (ALL) is approved by the FDA, it will save the lives of many children and young adults, and will bring hope to countless more cancer patients as our research teams continue to explore additional indications.
This achievement has been hailed as opening a new era in medicine, and I could not be more pleased for Carl June and his cohesive, innovative team in the Center for Cellular Immunotherapies. I am also proud and inspired by their collaborative culture and want to acknowledge a few of the many other people and entities who helped make it happen – the Penn Center for Innovation, which negotiated our unique partnerships, Kevin Mahoney who helped shepherd the relationship with Novartis, CHOP as a valued partner and the best children's hospital in the world, and the patients who were the treatment's pioneers.
Penn Medicine has championed the role and impact of translational research for decades. We know that successful translation of research advances into clinical practice is challenging and requires the work of many hands. It also requires institutional commitment and the active participation of faculty, nurses, students, technicians, staff, and patients. Reflecting on the impact of successful examples of translational research inspires us to work doubly hard for the next success, as there is much more that needs to be accomplished. Today, we celebrate the accomplishments of the T-cell immunotherapy team on behalf of patients, now and in the future.
With best regards,


J. Larry Jameson, MD, PhD