Fostering a Culture of Wellness at Penn Medicine: Welcome Back Fall 2017
Fostering a Culture of Wellness at Penn Medicine
---
August 28, 2017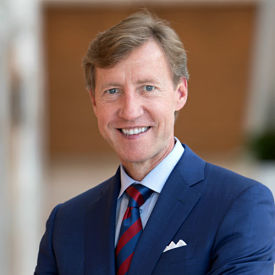 Dear Faculty, Students, and Staff,
The literature is replete with evidence of high rates of burnout among physicians, scientists, students, and staff who work in healthcare. While Faculty at Penn Medicine have contributed to this literature, we are certainly not exempt from the factors that lead to burnout. At Penn Medicine, we are deeply committed to engaging faculty with innovative programs that maximize well-being, enhance productivity, and make us a preferred place to work. As we transition from summer into a new academic year, it is an appropriate time for self-reflection and renewed efforts to ensure ongoing self-care so that each of us can be optimally effective as teachers, compassionate care-givers, collaborative team-members, and creative problem-solvers. Below, I highlight just a few of the many activities underway at Penn Medicine to foster a culture of wellness and to support our passionate and talented faculty, students, and staff.
Our Faculty Wellness Campaign, launched in 2016, crowd-sourced and then launched 10 different initiatives to promote self-care and well-being. These include lactation support, fitness and wellness classes in partnership with the University, Penn Care Connects to provide faculty seamless and timely access to our health care services, a new collaborative space on the top floor of the South Tower Extension, and networking dinners for new faculty. We have also revised policies and procedures related to leave time to achieve transparency and consistency. This fall, we will roll out a new five-year strategic plan, Shaping the Future of Medicine 2.0, that places a sharp focus on accelerating the progress we have made in establishing a culture of wellness at Penn.
At the same time, we organized a multi-pronged Perelman Wellness Initiative to support a medical school experience of personal growth and maturation for each student. This program includes enhanced faculty advising and mentoring, new curricular offerings, and a portfolio of wellness activities and events, from sports clubs to yoga classes to promote medical student wellness and the development of self-care as a critical element of physician professionalism, an imperative that residency training has also embraced.
We are also piloting initiatives to improve work efficiency for all faculty. For example, we are increasing the use of nurse practitioners, physician assistants, and other providers to enrich and expand our healthcare teams. Following the rollout of EPIC throughout our health system, continued progress to streamline use of the electronic health record is critically important to focus our attention on patients and clinical care plans. We are also moving aggressively to develop more efficient on-line systems that minimize the time required for administrative reporting and to decrease the regulatory burden. We will make ongoing use of the Faculty Well Being Index to assess our progress, and will enhance accountability of leadership by incorporating these outcomes into annual and six-year departmental reviews. Finally, we are launching a new faculty website called Faculty Life and Professional Development that will host all faculty resources in one place.
Our efforts to promote wellness will be supported further by the progress we have made to foster a culture of inclusion and diversity. We can be proud that our community's core commitment to inclusion is stronger than ever. In the coming year, we will be implementing programs to understand and mitigate unconscious bias, an important cause of stress and healthcare disparities. I look forward to collaboration among leadership, departments, and individual faculty members, students, and staff to ensure a workplace free of bias.
Each of us has the power to improve daily life experiences for ourselves and our colleagues by carrying out "random acts of kindness." Let me close by pledging to perform such acts myself and urging each of you to do the same, so that together we make the coming academic year one of optimal wellness, personal resilience, and inclusion at Penn Medicine.
With best regards,


J. Larry Jameson, MD, PhD