Shaping the Future of Medicine 2.0: Introducing our New Strategic Plan
Shaping the Future of Medicine 2.0
---
October 16, 2017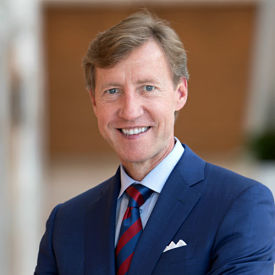 Dear Colleagues:
I am pleased to share with you Penn Medicine's new Strategic Plan – Shaping the Future of Medicine 2.0: The Next Era of Innovation and Impact (2018-2023). You can find a link to the Plan here. Please note that while this serves as a high-level strategic roadmap to the future, it is not inclusive of the full range of Penn Medicine activities, and it will serve as a "living document" over time. Therefore, we welcome your feedback.
As each of you appreciate, academic medicine faces dynamic change in each of our mission areas. While much of this change is induced by the external environment, we are in a unique leadership position to shape the field and insure that we adapt proactively to new opportunities and challenges. Guided by the successful implementation of our previous Strategic Plan, Penn Medicine has achieved tremendous momentum over the past five years. In developing this new Plan, we will sustain, and hopefully accelerate that progress, and leverage the breadth and depth of planning that occurs across our academic medical center every day.
Shaping the Future of Medicine 2.0 was developed over the past year and has benefitted greatly from the vibrant input of hundreds of faculty, students, and staff members. In particular, I would like to thank Caryn Lerman, PhD, who shepherded the planning process, and the members and leaders of six Work Groups, who contributed their time and creativity to the Plan's formulation: Leveraging Health Data Committee (Jason Moore, PhD, and Michael Restuccia, Chairs); Health Care Value Committee (Justin Bekelman, MD, and Dan Polsky, PhD, Chairs); Innovative Tools and Methods for Discovery Committee (Lou Soslowsky, Chair); Public Health Science Committee (Jennifer Pinto-Martin, PhD, and Flaura Winston, MD, PhD, Chairs); Faculty Advancement and Engagement Committee (Lisa Bellini, MD, Chair); and Undergraduate Medical Education Committee (Emma Meagher, MD, Chair). Their insights into academic medicine, perspectives on future directions, and their ability to convert strategy into goals and implementation is evident throughout the document.
The Plan addresses a basic question: How do we make investments in people, programs, and technology that will keep Penn Medicine at the very front edge of science, patient care, and training in the coming years? Focusing on that challenge, we developed four overarching goals:
Provide Patient-Centric Care of the Future
Pioneer New Discoveries and Therapies for Patients
Foster Inclusion, Engagement, and Professional Development
Promote Lifelong Learning
Successful implementation of Shaping the Future of Medicine 2.0 will continue our momentum in a deliberate and thoughtful way in each of these domains and secure Penn Medicine's position as one of the leading academic medical centers in the world. I encourage you to read the plan and hope you find it as exciting and stimulating as I do. I look forward to receiving your feedback.
With best regards,


J. Larry Jameson, MD, PhD