2017 National Academy of Medicine Inductees
2017 National Academy of Medicine Inductees
---
October 17, 2017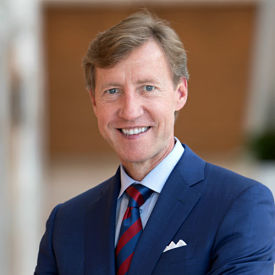 Dear Faculty, Students and Staff:
I take great pride in sharing with you the wonderful news that five of our colleagues in the Perelman School of Medicine -- Lewis A. Chodosh, MD, PhD (Department of Cancer Biology), Christos Coutifaris, MD, PhD (Department of Obstetrics and Gynecology), Maria A. Oquendo, MD, PhD (Department of Psychiatry), Michael S. Parmacek, MD (Department of Medicine), and Flaura K. Winston, MD, PhD (Department of Pediatrics) -- have been elected to the National Academy of Medicine (NAM). The election of new members was announced Monday at NAM's annual meeting.
As you know, election to NAM is considered one of the highest honors in biomedicine and recognizes outstanding contributions to our field. This remarkable class of inductees brings to 66 the number of current and emeritus members of the Penn Medicine faculty who are NAM members.
Along with our PSOM colleagues, Therese S. Richmond, PhD, CRNP, FAAN, from the School of Nursing, and Dorothy E. Roberts, JD, a PIK professor in the School of Arts and Sciences and the Law School, were among the 70 new U.S. and 10 international members elected to NAM this year.
Dr. Chodosh is chair of the Department of Cancer Biology; professor of Medicine; associate director for basic science, Abramson Cancer Center, and co-director of the 2-PREVENT Translational Center of Excellence. His research focuses on mechanisms of cancer progression, with an emphasis on preventing and treating breast cancer recurrence.
Dr. Coutifaris is the Celso Ramon Garcia Professor of Obstetrics and Gynecology and chief of the Division of Reproductive Endocrinology and Infertility. His research focuses on understanding the cellular and molecular mechanisms of human trophoblast function and determining the epigenetic basis of abnormal placentation and adverse perinatal outcomes
Dr. Oquendo is the Ruth Metzler Professor and Chair of Psychiatry. Her research focuses on the neurobiology and pharmacologic treatment of mood disorders, with an emphasis on suicidal behavior and global mental health.
Dr. Parmacek is the Frank Wister Thomas Professor of Medicine and Chair of the Department of Medicine. He has made key discoveries for understanding the molecular and genetic basis of congenital heart disease, atherosclerosis, aortic aneurysm and dissection, and heart failure.
Dr. Winston is the founder and Scientific Director of the Center for Injury Research and Prevention at CHOP, where she holds the inaugural Children's Hospital of Philadelphia Distinguished Chair in the Department of Pediatrics, and is professor of Pediatrics in PSOM. He research at the interface of engineering, medicine, behavior, and public health drove improvements in child-passenger safety, reductions in teen and young-driver crashes, and advances in trauma-informed care after injury.
Please join me in congratulating all of our colleagues on this tremendous honor.
With best regards,


J. Larry Jameson, MD, PhD