Appointment of Suzanne (Suzi) Rose, MD, MSEd, as Senior Vice Dean for Medical Education
Appointment of Senior Vice Dean for Medical Education
---
October 27, 2017
To:Penn Medicine Faculty and Staff
From:J. Larry Jameson, MD, PhD
Re: Suzanne Rose, MD, MSEd, New Senior Vice Dean for Medical Education
---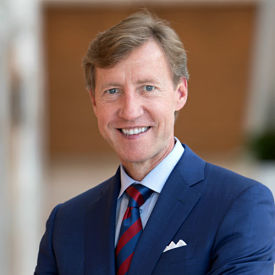 It gives me great pleasure to announce that Suzanne (Suzi) Rose, MD, MSEd will assume the role as the Senior Vice Dean for Medical Education in the Perelman School of Medicine at the University of Pennsylvania, effective February 15, 2018. This search process and appointment follows several years of collaborative succession planning with Gail Morrison, MD who has admirably led the Perelman School of Medicine for 23 years to its current position of eminence. Building on our exceptional momentum in education and training, Suzi will work with our students, faculty, and staff to help us shape the future of medicine by catalyzing inclusion, innovation and impact in medical education.
Suzi currently serves as the Senior Associate Dean for Education at the University of Connecticut School of Medicine. A national leader in medical education, she is recognized for spearheading a highly successful curriculum reform effort at UConn that has received many accolades. In addition to her impressive track record of success in developing cutting-edge educational initiatives, Suzi is known as an inspirational leader who can build and lead diverse teams, producing transformative change with broad community engagement. Her collaborative style and commitment to inspiring trainees to deliver exceptional patient care have led her to be resoundingly successful in this as well as her prior leadership roles at Mount Sinai and the University of Pittsburgh.
Graduating from the University of Pennsylvania with a Bachelor of Arts in Russian Language and Literature and a Master of Science in Education, Suzi received her Medical Degree from Case Western University followed by a postdoctoral fellowship in gastroenterology. Her scholarship has a sharp focus on medical education, crossing the intersecting domains of women's issues in health, undergraduate and graduate medical education, evaluation of educators, and developing the next generation of health care leaders.
Over and above her responsibilities as a committed educator within academia, Suzi has demonstrated dedication to national societies and organizations to which she volunteers. She has served as the Chair of the American Gastroenterological Society (AGA) Education and Training Committee and the Chair of the Association of American Medical Colleges (AAMC) Group on Educational Affairs. Her numerous awards and honors include the American Gastroenterological Society (AGA) Distinguished Educator Award and the Inaugural Distinguished Service and Leadership Award from the AAMC's Northeastern Group on Educational Affairs. I could not be more pleased to have the opportunity to work closely with one of the most talented leaders in medical education to help shape the future of Penn Medicine.
Finally, please join me in appreciation of Gail Morrison's more than two decades of exceptional service as she assumes a critical new leadership role in Online Education, where I am confident that she will once again pioneer important new methods of learning that will have a major impact at Penn and beyond. A celebration of Gail's extraordinary accomplishments and impact in the area of medical education will take place later this spring.
With best regards,


J. Larry Jameson, MD, PhD