FDA Approval of Gene Therapy for Blindness
FDA Approval of Gene Therapy for Blindness
---
December 19, 2017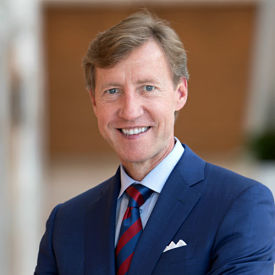 Dear Faculty, Students and Staff:
As many of you are aware, the gene therapy developed by Dr. Jean Bennett and her team for treatment of a rare, inherited form of retinal blindness -- Leber congenital amaurosis (LCA) – was approved today by the FDA. This milestone marks the nation's first gene therapy approved for the treatment of a genetic disease and the first in which a new, corrective gene is injected directly into a patient.
At any time, but especially during this holiday season, this groundbreaking achievement is cause for celebration. First and foremost, I am inspired by the creativity and focused effort over many years of Dr. Bennett, Dr. Al Maguire, Dr. Katherine High and the scores of faculty, nurses, students, technicians, staff, and patients to whom we owe this success. Today's achievement rests on a foundation of 25 years of studies on congenital blindness, starting with pioneering work on mice and dogs.
Coming as it does on the heels of FDA approval of CAR T-cell therapy for pediatric acute lymphoblastic leukemia (ALL), this breakthrough culminates a remarkable year for Penn Medicine. Our scientific impact -- and the worldwide attention it commands -- have never been greater.
Successful translation of research advances into clinical practice requires strong institutional commitment and a special collaborative culture. I would especially highlight the web of partnerships on which this achievement rests – beginning with the team of Dr. Bennett and Dr. Maguire and extending to the strong partnership between Penn and CHOP, the alliance with Spark Therapeutics, and the research team's collaborations with basic and clinical scientists across the country and around the world. Partnerships like these produce the innovation Penn is known for.
I couldn't be prouder of this achievement, and ask that you join me in celebrating a milestone that brings hope of restored vision to patients with LCA and holds equally exciting promise for the future. Our research teams are already working on additional indications, including macular degeneration. With Penn at the forefront, gene therapy's application to many other diseases is just around the corner.
With best wishes for healthy, happy holidays.
Sincerely,


J. Larry Jameson, MD, PhD