Thank You for a Remarkable 2017
Thank You for a Remarkable 2017
---
December 22, 2017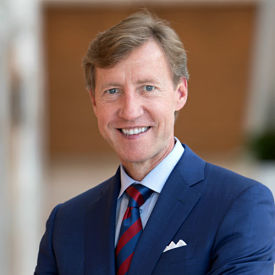 Dear Faculty, Students, and Staff,
With 2017 coming to a close, I want to thank you sincerely for the great work you have done to make this a truly memorable and impactful year at Penn Medicine. Together, we have reached some remarkable milestones.
It's been a year of amazing achievements -- FDA approval of CAR T-cell therapy for acute leukemia and gene therapy for Leber congenital amaurosis, to name just two in the last four months. Translational research at Penn Medicine has led to hundreds of new clinical trials. Many of these will prove successful, providing new treatment options and hope for patients and families. This year, our research community published a record 441 papers in high impact journals, nearly double the number a few years ago. Penn and Penn Medicine are recognized as top 5 innovators by Nature Biotechnology, Reuter's, and in other similar rankings. We also lead the way in quality of care and patient safety, reflected in patient satisfaction metrics that have never been higher and mirrored by the positive patient experiences that we witness on a daily basis. Our talented students continue to inspire and impress us with their provocative questions and ever-increasing standards of excellence. We also take great pride in our faculty and students who are deeply engaged in community service, leading to an increased understanding of the social determinants of health and moving the needle on major health outcomes. Our committed supporters – alumni, donors, family, and friends – understand the critical importance of our mission and have never been more engaged. We have had record attendance at Alumni weekend, Philly Fights Cancer, and the Basser Jean Bash, to name a few examples.
I am immensely proud of these achievements, which reflect Penn Medicine's role as a leader in academic medicine and a force for good. Also striking to me is the collegiality, commitment, and kindness you show to one another -- as colleagues, role models, mentors and educators.
It is that collaborative spirit that makes me genuinely excited about our shared bright future at Penn Medicine. As the holiday season ends and we look forward to a New Year, I want to take this opportunity to thank you for the gift of optimism.
With best wishes for happy, healthy, holidays and a joyful New Year.
Sincerely,


J. Larry Jameson, MD, PhD