Graduation Remarks 2018
---
May 13, 2018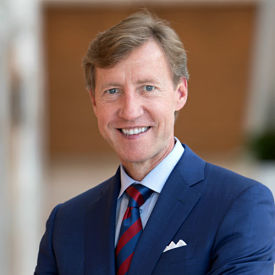 Good morning. I am Larry Jameson, the Dean of the Perelman School of Medicine. It is great to see this huge turnout – and everyone is here to celebrate YOU, the Class of 2018. I know you're eager to walk across the stage, but we have a few things to accomplish first.
This ceremony is a wonderful occasion for each of you, and we couldn't have hoped for a more talented, hard-working group of graduates. One tradition that links us to the generations that came before us was the procession of academic regalia that began this ceremony.
Most marchers are members of our faculty, the professors, the clinicians, the scientists who have been role models and mentors, sharing their wealth of knowledge and their values of humanism and professionalism. The procession also included Penn trustees, whose service to the school is invaluable. I want to recognize David Cohen and Walter Gamble. Please join me in saluting our faculty and trustees.
To reach this milestone, you've worked extraordinarily hard, met every challenge we set before you, and amazed us with your accomplishments. Your families, spouses, partners, and friends have also made sacrifices to get you to this point. Arguably, they're happier to have reached this day than you are! This could be your last tuition bill! For their support I'm sure you're deeply grateful, so please turn and acknowledge the people who have supported you.
This is a moment of great change and transition. In some ways, it's bittersweet. Many of you will be moving away to a new city. As you begin internships in the next month, the learning curve will be steep, but also incredibly exciting and invigorating as you hone your skills and begin your lives as doctors. Penn has prepared you well for this new responsibility. You have proven your ability to acquire the knowledge and skills to serve as outstanding physicians. I will remind you – from personal experience – medicine requires lifelong learning. We are all students for life.
When our founder, John Morgan, set out the mission of the school of medicine more than 250 years ago, a primary goal was to ground medical education in science and "spread the light of knowledge." Today, it's more important than ever to recommit ourselves to that Enlightenment ideal. We must strive continuously to use research to make new discoveries and to practice medicine on the basis of evidence.
As physicians, we are in a unique position to communicate the value of science to members of society with less exposure to it. When it comes to their lives and health, our patients understand that a deep reservoir of knowledge, rigorous training, and experience are crucially important.
At Penn Medicine we have a tradition of inviting the 50th reunion class to graduation. We have in attendance several members of the Class of '68. Please raise your hands. Soon you will be hearing from a member of this class – Dr. Thomas Frazier, Emeritus Clinical Professor Surgery at Thomas Jefferson University and Drexel University. I would like to thank Dr. Frazier and the other members of the Class for their wonderful support.
What strikes me about this tradition is that we have a group of doctors who have been in practice for 50 years, and another group – you -- who will be practicing for another 50 years. So at this moment in time, we're looking at a span of 100 years in medicine. This is a unique and hope-inspiring sight, reminding us that we are the lucky inheritors of stunning medical progress.
In the last 100 years the global average life expectancy has more than doubled and the future offers hope for further improvements in the "healthspan" – living longer and better. Infectious diseases that were once responsible for millions of deaths annually have been controlled or eliminated altogether. Almost every day, there is news of novel interventions for the most clinically challenging conditions -- such as T cell therapy for cancer and gene therapy to cure inherited forms of blindness, to name just two breakthroughs pioneered in the past year at Penn.
Now is our time in biomedicine. The tools we have for discovery, diagnosis, and treatment have never been more powerful. As you enter medical practice, the use of imaging, minimally invasive surgery, new medicines, informatics, and artificial intelligence will allow you to make diagnoses earlier and treat diseases with ever-increasing precision and better outcomes.
You benefit not just from new knowledge and powerful technology, but from your diversity and wide-ranging life experiences. Your class is remarkably diverse in every sense of the word, and that is a tremendous strength as you join a healthcare workforce that is team-based and must continue to innovate, communicate effectively, expand access, and address healthcare disparities in parallel with traditional medical needs.
I know that you are ready to meet these challenges. Like the Class of 1968, you know that what makes medicine the noblest profession is its unique combination of scientific rigor and humanistic compassion. These core values will guide you throughout your careers, as you bring the best possible care to your patients and make the world a healthier place. The Perelman School of Medicine has prepared you extraordinarily well to be physicians who seek scientific truth and the most comprehensive, compassionate forms of healing. We are very proud of you.
It is now my privilege to introduce today's graduation speaker.
There could be no one more fitting or meaningful to address the class than Gail Morrison. Dr. Morrison is the William Maul Measey President's Distinguished Professor in Medical Education. For two decades Dr. Morrison served as Senior Vice Dean for Education and kept the PSOM at the forefront of medical education. Our students know her as an amazing role model, always encouraging them to follow their passions and creating an outstanding environment for learning.
Under her leadership, we developed the Jordan Medical Education Center. Her curricular innovations have made a Penn medical education uniquely interdisciplinary and individualized:
There were no certificate programs before Gail became Senior Vice Dean; now there are 10, and nearly 60% of the class are graduating today with an MD+ degree.
There were just two dual degree Master's programs; now there are 9.
We have conferred 500 MD/PhDs in our School's entire history -- 375 of them during Gail's tenure
These are extraordinary accomplishments, and it is my distinct honor and pleasure to welcome to the podium Dr. Gail Morrison.