The Power of Penn Medicine
The Power of Penn Medicine: 2018 Yearend Message
---
May 31, 2018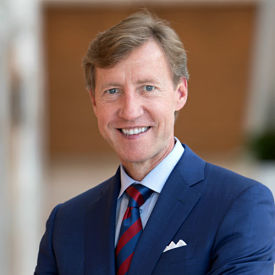 Dear Faculty, Students, and Staff,
In this season of renewal, we celebrate the graduation of students, welcome back our alumni, and begin a new Capital Campaign – The Power of Penn. In this brief communication, I want to express my admiration and gratitude to all of you who make Penn Medicine the best place in the world to learn, discover, or receive care. Below, I share a few highlights from the past year to justify this statement.
The best place to learn: Physicians and scientists are students for life. The doubling cycle for biomedical knowledge has shortened from every 25 years to less than 18 months during the short time since we graduated the Class of '93. Given this accelerating rate of change, we are fortunate to work in a robust training environment with exceptional medical students, residents, fellows, graduate students, and postdocs who engage with our faculty daily to question dogma, analyze data, and drive future discoveries. We are blessed with geographic concentration of our laboratories, classrooms, and clinical facilities. On any given day, there are dozens of stimulating lectures, symposia, and visiting scientists. As I write this, hundreds of people, including visitors from Australia, the UK, and several other countries, are attending the 4th Annual Basser Symposium for BRCA to discuss the future of genetic testing, prevention, screening, and new opportunities for treatment, following the FDA approval of PARP inhibitors based upon a multicenter study led by Dr. Susan Domchek at Penn Medicine. In our hospitals, nurses and physicians are collaborating on studies to improve patient care, and sharing their posters in the lobby of HUP. Last year, the Penn Medicine Center for Healthcare Innovation supported more than 80 pilot studies, and we witnessed the implementation of the Community Health Worker IMPaCT® model and Penn Heart Safe Motherhood project on a national level. Our learning environment at Penn Medicine is unsurpassed and I want to thank all of you who contribute to this mission through our courses, seminars, laboratories, clinics, OR's, ICU's, and ER's.
The best place to discover: While the physicists experienced a renaissance in the 20th century, this is our time in biomedical research. Not a day passes at Penn Medicine without a profound new discovery. We try to highlight these advances in our daily news releases but there is much, much more. When our graduate students summarize their thesis projects at commencement, our creative and collaborative environment and our strong infrastructure of cores and instrumentation come to life in the form of breakthroughs. Since July 1, 2017, we have recruited 45 new tenure track investigators. They consistently cite our culture as the primary reason for embarking on the next phase of their careers at Penn Medicine. This collaborative culture is manifest in many ways, but concrete examples include joint recruiting across departments and centers, symposia that regularly span disciplines, and publications with authors across our diverse departments and centers. Importantly, we have unparalleled translational research at Penn Medicine. The flash mob event last August celebrating FDA approval of CART19 (Kymriah) for acute lymphoblastic leukemia was the first in a series of 4 FDA approvals this year. It's hard to top a reception for Drs. Jean Bennett and Al Maguire where they brought Venus, one of their two dogs cured by gene therapy for blindness (RPE65 mutation), and showed a video of a contestant for America's Got Talent after receiving gene therapy. These treatments are now being commercialized by Novartis and Spark Therapeutics, broadening the impact globally. It is fascinating to witness Dr. Aimee Payne and colleagues turn T cell mediated treatment for cancer into a novel approach to treating autoimmune disorders by placing the antigen for pemphigus vulgaris on the T cell, thereby instructing it to eliminate the B cell clones producing autoimmune antibodies against the antigen. ITMAT launched the translational research revolution at Penn 15 years ago and we are experiencing the exponential phase of discovery as the seeds of basic research transition into animal models, early stage clinical trials, and foster startup companies that attract new investments in biomedical research. Indeed, Reuters ranked Penn #4 among the world's most innovative Universities. These, and many other examples of your creativity and collaboration exemplify why this is such a terrific place for discovery and an exciting place to work. You spark ideas in one another, empower students to pursue their careers, and provide hope for patients as you unravel the mechanisms of disease and drive new cures.
The best place to receive care: Health is arguably our most valuable asset but this realization may not be appreciated until it is in jeopardy. Each day, I hear heartwarming stories from patients and families about the care they receive within our health system and the clinical skills and professionalism of our interdisciplinary teams. A recurring feature in these letters is reference to the many "small things" that you do on a daily basis – offering a warm blanket when the MRI room is cold or taking time to "be present" and pause until all questions are answered. Our patients know that Penn Medicine is an exceptional health care system known for its advanced care. They expect us to make the right diagnosis and implement appropriate treatments. Yet, what they remember a few weeks later is how they were treated with kindness, compassion, and patience while enduring a frightening experience with tests and treatments. Penn Medicine has made enormous strides in patient satisfaction, access, and quality. Our patient satisfaction percentiles have more than quadrupled over the past 7 years and hover near the 90th percentile in most practices. Through regional expansion and recruitment of excellent clinicians and allied health professionals, access to care has improved dramatically across the health system. While we care for patients with some of the most complex conditions, we achieve some of the best outcomes in the country. These results reflect the extraordinary training of our caregivers, the consistent focus of team-based care and communication, and a lot of hard work in often challenging circumstances. Our patients thank you for these commitments, and so do I. Penn Medicine was ranked #6 by Forbes magazine among America's Best Employers, and #1 among health care organizations. Our ongoing efforts to support faculty wellness, including new initiatives to reduce administrative burden, provide venues for faculty innovation and flexibility in clinical care, and support for the highest levels of professionalism, are just a few of the efforts to enhance faculty, student, and staff life at Penn Medicine.
You are having tremendous impact, whether measured by clinical outcomes (#2 observed to expected mortality), research impact (more than a paper per day in the top 20 journals), or the success of our graduates (students matching in the best residencies nationally -- including HUP and CHOP). With the very real pressures associated with our roles in academic medicine, whether competing for grant support, caring for complex patients, or adapting to myriad administrative requirements necessary to complete our goals, it is helpful to remind ourselves of the importance of our mission in academic medicine. We share our mission together, as teams and collaborators. I recently received a note from Dr. Lynn Schuchter, Chief of Hematology Oncology, about a member of the housekeeping staff who works the late shift on the 10th floor of the South Tower. Every Friday she wears her T-shirt from the CAR T FDA approval celebration, because she is proud of Penn Medicine and thinks of patients with cancer and the hope this brings to them.
This is the spirit that sets Penn Medicine apart, the pride we take in being part of an enterprise doing so much good. As the academic year concludes, and we look forward to another year with ambitious goals, I thank each of you for your defining contributions to Penn Medicine.
Sincerely,


J. Larry Jameson, MD, PhD