Appointment of E. John Wherry, PhD, as Chair of the Department of Systems Pharmacology and Translational Therapeutics
Appointment of E. John Wherry, PhD, as Chair of the Department of Systems Pharmacology and Translational Therapeutics
---
June 26, 2018
To:Faculty, Students and Staff
From:J. Larry Jameson, MD, PhD
---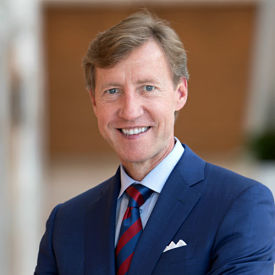 I am delighted to announce the appointment of E. John Wherry, PhD, for a six-year term as Chair of the Department of Systems Pharmacology and Translational Therapeutics (SPATT), effective July 1. Dr. Wherry is the Richard and Barbara Schiffrin President's Distinguished Professor in the Department of Microbiology and an international leader in the study of T cell exhaustion, which prevents optimal control of infections and can hamper anti-tumor immune responses.
Dr. Wherry is currently Director of the Institute for Immunology, co-leader of the Abramson Cancer Center's Immunobiology Program, and co-director of the Parker Institute for Cancer Immunotherapy at Penn. In each of these leadership roles, he has fostered cross-disciplinary interactions and collaborations to accelerate innovative discoveries and apply findings within the basic sciences to clinically translatable approaches.
Dr. Wherry's research focuses on T cell exhaustion in chronic infections and cancer and on the mechanisms by which immunoregulatory "checkpoint" pathways, such as PD-1, control T cell exhaustion. His work has advanced our understanding of how gene expression changes affect this exhaustion, which has led to strategies to improve the effectiveness of T cell targeting immunotherapies.
Dr. Wherry has received numerous distinctions for his consistent and significant contributions to infectious disease and cancer immunology research. He has been recognized as one of the most highly cited investigators in his field by Thomson/ISI and was named one of America's Young Innovators by Smithsonian magazine (2007). He received the Frederick W. Alt Award for New Discoveries in Immunology from the Cancer Research Institute (2016) and the Phillip A. Sharp Innovation in Collaboration Award from Stand Up To Cancer (2018). Dr. Wherry serves on numerous scientific advisory and editorial boards, including The Journal of Experimental Medicine, PLoS Pathogens, Cancer Immunology Research, The Journal of Immunology and The Journal of Leukocyte Biology.
Dr. Wherry earned his PhD in Immunology from Thomas Jefferson University in 2000 and completed his postdoctoral fellowship at Emory University (2003). He was appointed Assistant Professor in the Immunology Program at The Wistar Institute (2005) and joined the Penn Department of Microbiology in 2010.
The Department of Systems Pharmacology and Translational Therapeutics is one of the finest in the country, ranking first among pharmacology departments for NIH funding. The Department is closely involved with the Institute for Translational Medicine and Therapeutics (ITMAT), home to the Clinical and Translational Science Award (CTSA) and in the leadership of the Penn Genomics Institute. Dr. Wherry's appointment as Chair will create further bridges to many departments and centers through focus on inflammation, leading to new high impact research in pharmacology and experimental therapeutics.
I would like to thank Lewis Chodosh, MD, PhD, and the members of the search committee for their time and dedicated service throughout the search process. I am profoundly grateful to Garret A. FitzGerald, MD, FRS, for his outstanding leadership of the Department over more than two decades.
Please join me in offering most sincere congratulations to Dr. Wherry on his new appointment as Chair of the Department of Systems Pharmacology and Translational Therapeutics.