The Power of Penn Medical Education: Welcome Back Fall 2018
The Power of Penn Medical Education: Welcome Back Fall 2018
---
August 29, 2018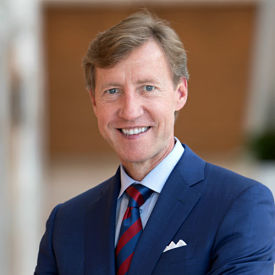 Dear Faculty, Students, and Staff,
As we begin a new academic year, it is timely to reflect on the changing educational landscape. Within our thriving academic medical center, education remains our defining mission and is a pillar of our five-year strategic plan, Shaping the Future of Medicine 2.0. In this brief message, I will share with you some of the ways we are advancing medical education at Penn to adapt to the rapidly changing healthcare environment and to meet the needs of future physicians and biomedical scientists.
As part of this strategic plan, Dr. Suzi Rose, our new Senior Vice Dean for Education, constituted an Education Council that will convene for the first time this fall. The Council represents stakeholders from across the education continuum – UME, GME, CME, MD/PhD, BGS, and post-docs – as well as representatives from the health system. The Council will foster communication across education programs, which have expanded in recent years to complement the size, scope, and quality of Penn Medicine's research and clinical enterprise. As examples, the Council has working groups on topics such as curricular innovation, interdisciplinary and inter-professional education, education technology, trainee wellness, and professionalism. It has been charged with identifying opportunities for integration of programs and innovation in these and other areas.
Through the years, Penn Medicine has been in the vanguard of medical education reform and our curriculum evolves continuously. This year, training in ultrasound is being expanded in the clinical environment and we are piloting EMT training for entering medical students. We also recognize the need to adapt to changes in the learning habits of students and to embrace their enthusiasm for new modes of learning, including online media and video, small-group learning and inter-professional education, simulation, entrepreneurship, and experiential learning. We have developed a growing portfolio of online educational programs. An important entry into this space was the recent introduction of an online Masters in Health Care Innovation by the Department of Medical Ethics and Health Policy. This program leverages Penn's unique faculty expertise in health policy, behavioral economics, and operations management. Enrolled students, many of them mid-career professionals, participated earlier this summer in the on-campus portion of the program. Further, our newly established Innovation Center for Online Medical Education, under the direction of Dr. Gail Morrison, is implementing multiple new online courses, building on the successful launch of our 3D anatomy courses. With the School of Nursing and UPHS nursing leadership, we have begun providing CME/CNE Inter-professional Continuing Education. We are also launching a new Executive Education program with Wharton to develop the next generation of healthcare leaders locally, nationally, and globally.
To increase access to a Penn medical education, we have been expanding scholarships for UME. As many of you are aware, NYU recently announced that it is making tuition free for all medical students. For many years, we have been sharply focused on support for medical student education, which is one of the highest priorities of our Power of Penn Medicine capital campaign. I am pleased to report that we have made remarkable strides, in many ways equal to or surpassing the support provided by NYU. We provide more than $25 million a year in support of tuition and fees. We have focused our aid on financial need, believing that this helps to attract and train a more diverse physician workforce. Importantly, we have chosen not to reduce our class size of about 150 entering students a year, a quarter of whom are from groups underrepresented in medicine. In addition, we have one of the largest MD/PhD programs in the country, with more than 180 students, all of whom are fully funded.
To illustrate what sets medical education at Penn apart, I will end this message with a story about how medical school began for this year's entering class of 152 students. The Class of 2022 were introduced to their first patient encounter on the opening day of school. Dr. Jean Bennett addressed the class, describing the decades-long scientific journey that led to development of gene therapy treatment for Leber's Congenital Amaurosis (LCA), an inherited form of retinal blindness. She brought with her to the Law Auditorium lecture hall her dog Mercury, who had participated in early trials, and Christian Guardino, a patient and a talented vocalist, who had been a contestant on America's Got Talent. Christian described the life-changing impact of the therapy he received and then -- to the students' delight – sang Journey's "Small Town Girl." It was a performance that at once exemplified the power of translational medicine to improve people's lives, and illustrated the superb learning environment we can leverage at Penn, to provide an unsurpassed education to future physicians and biomedical scientists this academic year and for generations to come.
With best regards,


J. Larry Jameson, MD, PhD