Judith Long, MD, Receives 2018 FOCUS Award
Judith Long, MD, Receives 2018 FOCUS Award
---
November 1, 2018
To:Faculty and Staff
From:J. Larry Jameson, MD, PhD
---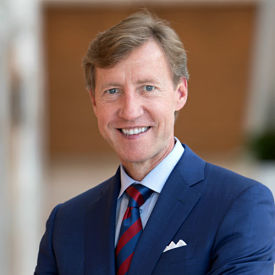 Along with my colleagues from the FOCUS program, I am delighted to announce that Judith Long, MD is the winner of the 2018 FOCUS Award for the Advancement of Women in Medicine. Dr. Long is the Chief of the Division of General Internal Medicine at the Perelman School of Medicine and Co-Director of the Center for Health Equity Research and Promotion (CHERP) at the Corporal Michael J. Cresenz VA Medical Center. CHERP is a Health Services Research and Development Center for Innovation focused on detecting, understanding, and reducing disparities in health and health care in vulnerable veteran populations. She is also the Co-Director of the VISN 4 Center for Evaluation of Patient Aligned Care Teams, which is currently focused on improving veteran patient engagement and reducing disparities.
Dr. Long's current research focuses on interventions to reduce disparities in health using peer mentors, community health workers, and behavioral incentives among other strategies. Dr. Long has extensive experience directing clinical research trials to improve outcomes for vulnerable patients with chronic diseases. Recent randomized controlled trials have evaluated peer mentoring and financial incentives for adults with poorly controlled type 2 diabetes, the long-term effectiveness of peer mentoring, whether former mentees can be trained to be effective peer mentors, and community health worker program for patients with multiple conditions in the outpatient setting.
Dr. Long is a gifted researcher and scholar as well as a dedicated mentor with a long-standing interest in training researchers in health services and health policy. She is a former Director of a HRSA T32, the Penn Robert Wood Johnson Clinical Scholars Program, the Penn National Clinician Scholars Program, and the Penn's Masters of Science in Health Policy Research Program. As such, she has extensive experience mentoring research fellows and junior faculty and is currently an active mentor of several K-Awards.
Dr. Long is an avid champion of women faculty. She seizes opportunities to help them advance their careers, always nominating women for awards, both locally and nationally. As Division Chief, Dr. Long works assiduously to ensure that all faculty are treated equitably. In the last year, she instituted a policy that all Division members would receive the same amount of professional funding support regardless of whether they were part-time or on reduced effort. She noted that almost all faculty with reduced or part-time effort were women and given that that their CME requirements were equivalent to all the full-time faculty, she did not think it was fair to penalize them with reduced support.
As Division Chief, Dr. Long has also prioritized pay equity, making sure that women are paid equivalently to men with similar roles and she had provided raises to women faculty when that was not the case. She has also argued for and successfully bolstered women in other divisions, navigating pay increases to address issues of equity. Dr. Long has taken this a step further by talking with groups of women residents and fellows about the importance of salary negotiation early in one's career.
As one of Dr. Long's mentees wrote when nominating her for this award, "when Judith believes in you she is an untiring advocate both in person and behind the scenes, most often when there is nothing in it for her."
Dr. Long has been a highly effective advocate for women at Penn – not only in the Department of Medicine but in many other departments – and in doing so, has benefitted all faculty as well as the culture at Penn Medicine. We are pleased to recognize her many efforts and thank her for the institutional change she has brought about with her determination and leadership.
The FOCUS Award for the Advancement of Women in Medicine recognizes a faculty member at Penn Medicine, male or female, whose outstanding efforts and achievements have promoted the career success, leader