Thank You for Another Year of Significant Impact
Thank You for Another Year of Significant Impact
---
December 17, 2018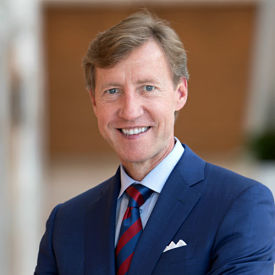 Dear Faculty, Students and Staff,
As we prepare to turn the page on 2018, I want to thank you for making this another year of significant impact at Penn Medicine. Together, we continued along the path of Shaping the Future of Medicine, advancing Penn's leadership in academic medicine, translating discoveries into better health, providing exceptional care for our patients, and training the next generation of physicians and scientists.
Our terrific run of FDA approvals gained momentum (6 approvals in 18 months!), bringing new treatment options and fresh hope to patients with leukemia, lymphoma, breast cancer, and other complex conditions. Foreshadowing future breakthroughs, our overall research portfolio expanded in breadth and depth. Nearly 2,000 clinical trials were active in 2018, a 22% increase over the past three years. For the second consecutive year, more than 400 papers were published in high-impact journals and our research funding is at an all-time high. This was also the second year in a row that Penn was ranked fourth on the Reuters list of the world's most innovative universities.
To keep our patients and communities healthier, we have led the way in health care and population health innovation -- from telemedicine, digital health, and community health workers to novel biomedical devices and precision therapies. Across the health system this year, we realized an 8 percent reduction in overall 30-day preventable readmissions, and our observed to expected mortality index fell by more than 20 percent, saving lives. Reflecting our dedication to providing the best possible care, patient satisfaction scores are at an all-time high.
Consistent with the continuous evolution of our medical education program, our students continue to seek advanced training, prompting 60% of the graduating medical school class to pursue an additional degree or certificate. We have one of the most diverse and talented groups of PhD students in the country and they challenge our faculty to pursue new questions across many fields from biostatistics to cell biology and neuroscience.
Reflecting Penn Medicine's leadership in academic medicine, media coverage of our research and clinical advances were featured in more than 2,000 national outlets. This includes 49 stories in The New York Times, more than double last year's coverage.
I anticipate even more exciting, impactful advances in 2019. We will see tangible results from our initiatives to optimize the electronic health record as part of Penn Medicine's "Get More Time Back for You" campaign. The new hospital Pavilion, which has taken spectacular shape in the past year, will be a step closer to becoming Philadelphia's most sophisticated health care facility and a national model for the delivery of the most advanced care. Aided by our co-investment program, commercialization of Penn Medicine discoveries has contributed to the branding of Philadelphia as Cellicon Valley, efforts that will bring new therapies to market. And in parallel, our newly established Education Council will leverage and integrate resources to empower our programs, faculty and trainees across the continuum of education. Moreover, our faculty development and enterprise-wide professionalism initiatives will insure that the wellness of our faculty, staff and students remains an institutional priority.
When I reflect on the achievements of the past year and those to come, I am struck by the number of solutions advanced across our academic medical center on a daily basis. A forward-thinking strategy and wise programmatic investments in our academic and clinical infrastructure account for some of our success. Above all, our success reflects the talent of our faculty, students, and staff, and the commitment of our Penn Medicine community to curiosity, collegiality, and collaboration with a singular determination to solve problems.
Thank you again, and best wishes for health and happiness for the remainder of the holiday season and in the New Year.
Sincerely,


J. Larry Jameson, MD, PhD