MLK Day 2019: Achieving Population Health through Health Equity
MLK Day 2019: Achieving Population Health through Health Equity
---
January 17, 2019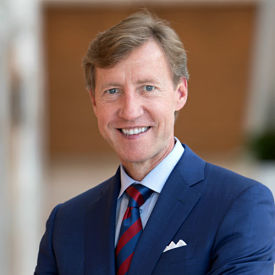 To the Penn Medicine Community:
The arrival of Martin Luther King Day is an opportunity at the beginning of every year to renew our academic community's vital commitment to advancing health equity. On January 23, we will mark MLK Day with the fifth annual Martin Luther King, Jr., Health Equity Symposium. This year's theme is "Achieving Population Health through Health Equity." The symposium will feature keynote speaker Jonathan Woodson, MD, former Assistant Secretary of Health Affairs for the U.S. Department of Defense. I was fortunate to learn from Dr. Woodson as a medical intern on his team at Mass General Hospital. He has been an eloquent champion of the Military Health System. His talk is sure to be stimulating and inspiring, and I encourage to attend. You can register for the symposium here.
We are living through a period of political and social rancor that demands moral clarity, and we look to Dr. King for his prescient vision and values. In "The Drum Major Instinct" sermon delivered two months before his assassination, Dr. King famously said that he wanted to be remembered as one who tried to give his life to serving others. "If you want to say that I was a drum major," he preached, "say that I was a drum major for justice."
As physicians, scientists, trainees, and health care providers, we have dedicated our lives to serving others. Advancing health equity requires us to make the exceptional care delivered in our clinics and the transformative breakthroughs achieved in our laboratories available to everyone who needs them. The just and equitable society we envision on MLK Day, and throughout the year, is one in which all people receive the health care they need and achieve their optimal state of health and well-being.
I am proud that Penn Medicine is a community that embraces this vision of health equity. Making it a reality begins with our commitment to inclusion and diversity. When you are able to attract the best physicians, medical professionals, teachers and researchers -- regardless of background or belief -- you have the talent and ingenuity to apply to any challenge. Diverse individuals working in teams – whether in clinics, labs, or classrooms – that resemble the communities we serve benefits everyone. Decades of research confirms that the best solutions arise from diverse thinking, and there is no doubt that diversity and inclusion enable us to deliver better medicine, more attuned to the needs of our patients.
Over the past five years, we have made substantial progress in making diversity a driver for faculty recruitment, retention, and professional development. There has been an 8% increase in women on the standing faculty, a 17% increase in minorities overall, and a 38% increase in standing faculty who are underrepresented minorities in medicine (URM). In terms of our student population, over the past five years there has been a 40% increase in underrepresented minorities and a 30% increase in medical students who identify as LGBTQ. Among BGS students, 56% of whom are now women, there has been a 76% increase in URM PhD candidates.
I am proud of this progress and the many programs Penn Medicine undertakes to create a more inclusive workplace culture, whether through unconscious bias training workshops, the work of our Diversity Search Advisors, or advancing scholarship in this domain. We are also deeply engaged with our community through community health clinics, cancer screening programs, and pipeline programs that offer educational opportunities to local high school students. We have developed LGBTQ health initiatives and programs to serve the needs of military service members and veterans. These and many other activities require the efforts of hundreds of faculty and students. I am grateful to all of you, as well as to the Office of Inclusion and Diversity (OID) and the inclusion and diversity programs throughout our academic medical center, for your impact.
Despite the strides we have made, much remains to be achieved. In the coming year OID is working with the Office of Graduate Medical Education to develop an online cultural competency training module for our entire community. We will also be accelerating our Unconscious Bias Workshops, and continuing to find ways to increase the impact of the Diversity Search Advisor program. In keeping with our Strategic Plan, we are committed to reducing variation in care, enhancing delivery of culturally competent care, and alleviating health disparities through innovative programs and academic scholarship.
As Dr. King pointed out in his sermon, the drum-major instinct is the desire to be out front and lead the parade. As we prepare to mark MLK Day, we reaffirm Penn Medicine's commitment to national leadership in health equity and inclusion.
With best regards,


J. Larry Jameson, MD, PhD