Announcing the Transition of Caryn Lerman, PhD
Announcing the Transition of Caryn Lerman, PhD
---
February 11, 2019
To:Penn Medicine Faculty and Staff
From:J. Larry Jameson, MD, PhD
---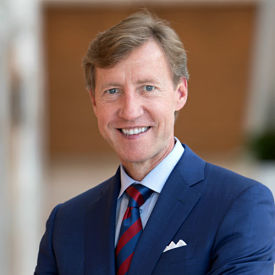 It is with mixed emotions that I inform you that Caryn Lerman, PhD, the John H. Glick, MD, Professor of Cancer Research in the Department of Psychiatry and Vice Dean for Strategic Initiatives in the Perelman School of Medicine, will be leaving Penn to become Director of the University of Southern California (USC) Norris Comprehensive Cancer Center at the Keck School of Medicine.
Dr. Lerman, who earned her PhD in Clinical Psychology at USC, is one of the nation's leading experts on tobacco dependence and a pioneering investigator at the interface between neuroscience, genetics, and cancer prevention.
Dr. Lerman joined the Penn faculty in 2001. Beyond her impactful scientific achievements, she has been a versatile leader within our academic medical center. Before becoming Vice Dean for Strategic Initiatives in 2016, she served as Senior Deputy Director and Interim Director of the Abramson Cancer Center, Co-Director of the Penn Medicine Translational Neuroscience Center, and interim Chair of the Department of Psychiatry. Among her many achievements as Vice Dean, Dr. Lerman oversaw the development of Penn Medicine's most recent five-year strategic plan and forged a partnership with the Wharton School to create the first Wharton-Penn Medicine Executive Education program in Health Care Leadership. She has also served as a trusted advisor to me as well as numerous faculty and institutional leaders.
Dr. Lerman's honors include election to the National Academy of Medicine, the APA Award for Outstanding Contributions to Health Psychology, the ASPO Cullen Award for Tobacco Research, the NIH Matilda White Riley Award, and the Ochsner Award for Research Relating Smoking and Health. At Penn, Dr. Lerman has received the William Osler Award for Excellence in Patient-Oriented Research as well as the Arthur Asbury Award for Outstanding Faculty Mentor. She is also past President of the Society for Research on Nicotine and Tobacco and has served on the National Institute on Drug Abuse Advisory Council, the National Cancer Institute Board of Scientific Advisors, and the National Advisory Council for Human Genome Research.
While we will miss Dr. Lerman's exceptional leadership, collaborative research, and camaraderie at Penn Medicine, I know that she will be an extraordinary leader in this next phase of her career. Please join me in wishing Dr. Lerman success in her new role.