Announcing New Roles for Patrick Norton
Announcing New Roles for Patrick Norton
---
February 19, 2019
To:Faculty and Staff
From:J. Larry Jameson, MD, PhD
---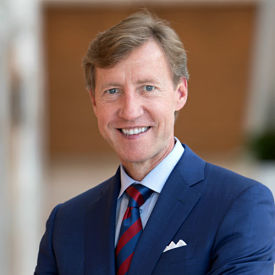 I'm pleased to announce that Patrick Norton will be assuming new roles as Secretary to the Penn Medicine Board of Trustees and my Chief of Staff, effective March 1, 2019. He will continue to serve as Vice President for the Health System, with oversight responsibility for Public Affairs – communications, media relations, and government & community affairs – also reporting to the CEO of UPHS.
As Chief of Staff, Patrick will serve as a strategic partner and a resource to advance the goals of our faculty and staff across the institution. His knowledge of both Penn Medicine and the external environment in which we operate will bring significant value to this role.
Since his return to Penn Medicine as Vice President for Public Affairs in the spring of 2017, Patrick has led a series of strategic planning and growth initiatives for the Government & Community Relations and Communications departments, which have brought impressive institutional reputation enhancement gains.
In response to our health system's growth, Patrick executed a re-organization of the Public Affairs team to devote greater efforts to key Penn Medicine priorities such as innovation, and build opportunities for faculty thought leadership, both through the news media and in the policy arena. These efforts have spurred growth in top-tier media coverage and successful new approaches to Penn Medicine's digital and social media engagement.
Please join me in congratulating Patrick as he transitions into these new roles.