PSOM Named Among Nation's Top Three Medical Schools
PSOM Named Among Nation's Top Three Medical Schools
---
March 12, 2019
To:Penn Medicine Faculty, Students & Staff
From:J. Larry Jameson, MD, PhD
---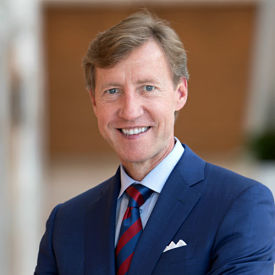 I'm pleased to share the news that the Perelman School of Medicine at the University of Pennsylvania has been ranked #3 among the nation's medical schools by U.S. News & World Report in its annual survey of best graduate schools. This marks 22 consecutive years the school has garnered honors among the top 10 research-oriented medical schools.
Our daily pursuit of excellence in education is also exemplified in the broad range of specialty training areas where we received recognition this year. Penn also ranked among the nation's top medical schools in nine training areas, including a #1 ranking in Pediatrics and honors in Anesthesiology (#3), OB-GYN (#4), Radiology (#4), Surgery (#4), Internal Medicine (#5), Psychiatry (#9), Primary Care (#10), and Family Medicine (#19).
According to the survey results, the medical schools earning a top-five ranking, in order, are: Harvard, Johns Hopkins University, Stanford (tied with Penn at #3) and the University of California – San Francisco. The complete survey results as well as the methodology used can be found on the magazine's website.
This recognition is a testament to you all—our faculty, staff, and students who come together each and every day to create an incredible learning environment, driving forward our mission to advance research and clinical practice, and to improve health across the world.
As the nation's first medical school, we have a long tradition of academic excellence and scientific discovery, and our students build on this foundation as they grow and define the future of health care. Our faculty and staff have dedicated themselves to fostering innovation and paving the way for future breakthroughs in the classroom, the clinic and the lab. It is an honor to be on this prestigious list for the 22nd consecutive year—another institutional tradition I am proud to see continue.
Many thanks to all of you for your extraordinary efforts on behalf of our school.