Transition in the Department of Biostatistics, Epidemiology & Informatics (DBEI)
Transition in the Department of Biostatistics, Epidemiology & Informatics (DBEI)
---
March 29, 2019
To:Faculty and Staff
From:J. Larry Jameson, MD, PhD
---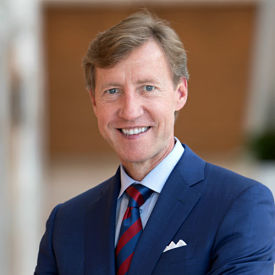 It is with a sense of great appreciation that I write to inform you that Harv Feldman, MD, MSCE, will be stepping down from his role as Chair of the Department of Biostatistics, Epidemiology & Informatics (DBEI) at the end of his term on September 30, 2019.
Dr. Feldman's transition is part of a restructuring of the relationship between DBEI and the Center for Clinical Epidemiology and Biostatistics (CCEB), which he has led for the past six years. As the focus of these entities has evolved over time, their identities have become increasingly distinct. As a result, I believe each will benefit from separate leadership going forward while still maintaining and further enhancing the collaboration Dr. Feldman has fostered within the vibrant, integrative community of biostatisticians, epidemiologists, clinical epidemiologists and informaticians across our institution.
Under Dr. Feldman's leadership, DBEI has made great progress across all mission areas. As advances in biomedical informatics have become critical to basic laboratory and clinical-science research and to the delivery of high-quality care, Dr. Feldman has been instrumental in developing biomedical informatics on campus. Beginning with the formation of a Division of Informatics within the Department and the creation of the Institute of Biomedical Informatics, the Department has remained near the forefront of the field. Its evolution was formally recognized in 2016 as its name changed from the Department of Biostatistics and Epidemiology to the Department of Biostatistics, Epidemiology & Informatics.
An interim DBEI chair will be named in the fall as we undertake a national search for Dr. Feldman's successor. Dr. Feldman has agreed to continue to serve as Director of the CCEB until a new DBEI chair is named.
As a result of Dr. Feldman's leadership, the Department is well positioned for success in the years to come. Please join me in thanking Dr. Feldman for his six years of service as Chair, and for his continued leadership and dedication on behalf of our academic health center.