Penn Medicine's Most Important Asset: Welcome Back Fall 2019
Penn Medicine's Most Important Asset: Welcome Back Fall 2019
---
September 3, 2019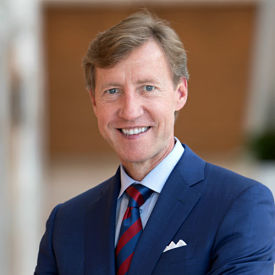 Dear Faculty, Students, and Staff,
This summer, the exterior façade of the Pavilion was locked into place, serving as a key milestone for our most ambitious building project and symbolizing Penn Medicine's momentum as a leading academic medical center. When it opens in 2021, the Pavilion will be the most advanced inpatient facility in the world. However, important as the capital projects are to our future, it is timely as a new academic year begins to reflect on Penn Medicine's most important asset – our people. Each day, our faculty, trainees, and staff pioneer discoveries, engage in lifelong learning, and care for our patients. This is the work that has placed Penn Medicine on its enviable trajectory.
In an era of rapid change, our faculty is constantly evolving, becoming more diverse, more talented, and equipped with new skills. In the last year, we appointed 250 new faculty members, bringing the total full-time faculty to 2,678. In this brief message I will highlight their collective power to innovate and advance each of our mission areas.
Our research enterprise is flourishing. At a time when biomedical research funding is stretched thin, our faculty is funded at a record level. In FY19, our institution garnered $752M in sponsored research. This includes $425M in NIH support and a growing portfolio of licensing and commercialization agreements that speed the development of new technologies and therapies. At the same time, the pace of discovery at Penn Medicine is accelerating, with new laboratory findings – in areas from immune health to epigenetics and behavioral economics -- providing clues and insights that are paving the way to more precise ways to prevent, diagnose, and treat diseases.
Our clinical trial activity goes hand-in-hand with this productivity, as Penn laboratory discoveries are quickly translated into therapeutic approaches to evaluate in patients. Aided by our model clinical trials infrastructure, the number of active studies at Penn Medicine has more than doubled in the past five years, surpassing 2,000 in FY19. As one measure of our leadership in translational medicine, there have been 10 FDA approvals tied to research breakthroughs at Penn Medicine over the past two years. In FY19 alone, our faculty published 476 papers in top 20 biomedical journals, a record number and part of a remarkable trend that has seen the number of top-tier publications grow each year – 100 more than 3 years ago! Our faculty are advancing knowledge that is transforming the practice of medicine across the world.
Buoyed by these headline-making advances, patients have come to expect cutting-edge care, along with compassion. The ability of our physicians and nurses to provide access and patient-centered care, often when people are at their most vulnerable, is reflected in rising patient-satisfaction measures. In FY19, the percent of Penn Medicine patients who gave their hospital a rating of 9 or 10 on a 10-point scale ranged from 80.3% to 72.5% across our six acute care hospitals. Outpatient measures were similarly impressive. Quality and safety are also improving. Declining risk adjusted mortality rates have resulted in thousands of lives saved.
We can all take great pride in our medical school's top three ranking by U.S. News and World Report this year, an achievement driven by our faculty's commitment to ongoing evolution of our curriculum to keep pace with new learning methods and an explosion of new biomedical knowledge and technologies that are changing the way we practice. Beyond their clinical, research and teaching responsibilities, I would also note that our faculty are extraordinary institutional citizens, as reflected by their willingness to serve on an average of 6 departmental, University and external committees.
In my time as Dean, I have witnessed the deep commitment and the collective impact of our faculty and staff at Penn Medicine. Ensuring this forward momentum also requires that we invest in the intellectual and personal growth of each member of our community. This begins the moment a new faculty member joins us. As one example, in July we launched the new Program to Advance Clinician Educators (PACE) for new faculty. We are also pursuing novel initiatives to foster resilience, emphasize the importance of self-care and well-being, transform practice, and promote professionalism throughout our workforce.
Taken together, all these efforts are charting our pathway to success in 2019-20 and for many years to come. I look forward to an academic year that nourishes our well-being as individuals and as a community, and enhances our impact as an institution.
With best regards,


J. Larry Jameson, MD, PhD