Grateful for the Culture of Penn Medicine
Grateful for the Culture of Penn Medicine
---
November 25, 2019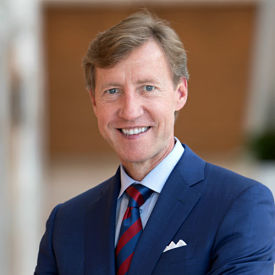 Dear Colleagues -- Faculty, Students, and Staff,
As Thanksgiving and the start of the holiday season approaches, I want to take this opportunity to share some reflections on what we have to be grateful for at Penn Medicine. First, I am grateful to each of you for your dedication and often selfless contributions to Penn Medicine. I also want to highlight our culture, arguably the most enduring aspect of our academic medical center.
Some of the qualities that make Penn Medicine a great place to work are quite tangible – the colleague who takes time to help a patient find their way to an appointment, or a high-five for a job well done! These concrete acts of courtesy and kindness are pervasive at Penn Medicine.
Less tangible but no less important are the values we share. These include our spirit of innovation, our collaborative and collegial culture, our commitment to justice, and our pursuit of excellence in everything we do.
I am grateful for our community's willingness and commitment to avoid complacency and embrace change – to improve patient outcomes, to create a stimulating learning environment, to test new scientific insights. This is the spirit of innovation that touches every aspect of our work.
I am grateful for our collegiality, which takes many forms. It finds expression when we mentor one another, providing new opportunities and fostering self-renewal. It propels our teamwork, when we cross disciplinary and interprofessional boundaries to pursue a novel line of research, teach a course, or develop a better way to deliver care. I am grateful for the time we take to celebrate the many successes of our colleagues – whether in formal awards ceremonies, as flash mobs for new drug approvals, or in simple expressions of appreciation. Ultimately, our collegiality is grounded in an ethic of respect for the views of others, even when we challenge one another.
I am grateful for our commitment to justice and to the many students, faculty, and staff who volunteer to provide cancer screening, HIV testing, free vaccine clinics and many other services in community clinics and in their everyday encounters with patients. The creative and passionate work we do to improve health and educational opportunities in neighborhoods across the region we serve is inspiring. We are a community committed to achieving optimal health for everyone, and I am grateful for that dedication.
We are a community of high achievers, and I am grateful for the legacy of excellence we gladly embrace, and especially for the spirit of humility with which it is pursued. Our legacy springs from the genius of Benjamin Franklin and includes transformative advances – from establishing the nation's first medical school to discovering the Philadelphia chromosome – that have changed the face of medicine. The breakthroughs we pursue today are just as transformative, and the opportunity for impact is unsurpassed. This is our time, and I am grateful for it.
These brief reflections hardly exhaust the long list of activities to be grateful for at Penn Medicine. I encourage you to share what inspires your own gratitude when you gather with friends and family this holiday season. A growing body of evidence establishes the association between giving thanks and psychological well-being. I guarantee you will feel better for it.
With gratitude for all you do, and best wishes for a healthy and Happy Thanksgiving,


J. Larry Jameson, MD, PhD