2019: A Year of Exciting Advances at Penn Medicine
2019: A Year of Exciting Advances at Penn Medicine
---
December 17, 2019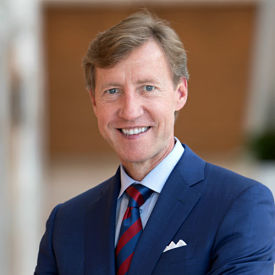 Dear Colleagues - Faculty, Students and Staff,
I want to thank you for making 2019 a year of exciting advances at Penn Medicine. We can all be very proud of our academic medical center's comprehensive impact -- whether translating discoveries into better health, providing exceptional care for our patients, or training the next generation of physicians. In this message, I will highlight a few examples of our progress over the past year and also underscore the impact and durability of our success.
In 2019, four additional FDA approvals tied to Penn research brought to 9 the total number of FDA approvals achieved over the past two years. Foreshadowing future breakthroughs, our interdisciplinary research structure was strengthened with the formation 4 new centers and institutes, and our overall research portfolio expanded in breadth and depth. A record $752 million in research support included the third highest level of NIH funding in the nation, and that is not including the notable research support to CHOP. Active clinical trials reached more than 2,000 in 2019, more than doubling over the past five years. For the third consecutive year, more than 400 papers were published in a select group of high-impact journals. This was also the third year in a row that Penn was ranked fourth on the Reuters list of the world's most innovative universities. Consistent with this high level of accomplishment, an impressive six faculty members were elected to the National Academy of Medicine.
We are also finding new ways to keep our patients and their communities healthier and to improve clinical outcomes. Penn Medicine continues to pioneer novel uses of telemedicine, behavior health, digital health, and precision therapies. Our health care teams, leveraged by the Center for Healthcare Innovation, are developing new approaches to access Penn Medicine to improve prevention, as well as care before and after hospitalization. The new Pavilion will open in less than two years and provide patients with comprehensive care in the country's most-advanced medical environment. Across the health system this year, we realized a 29% reduction in hospital acquired infections and achieved one of the lowest observed/expected mortality rates in the country. Reflecting our dedication to providing exemplary patient-centered care, more than 80% of patients at all six acute-care hospitals reported that their doctors and nurses always communicated well.
The strength of our medical education program resulted in a #3 national ranking by U.S. News & World Report in 2019. The curiosity of our students and the breadth of available training opportunities prompted 71% of the outstanding graduating medical school class to pursue an additional degree or certificate. We have one of the most diverse and talented groups of PhD students in the country. They challenge our faculty to pursue new questions across many fields -- from biochemistry, cell biology, physiology, biostatistics and genomics, to immunology, neuroscience and pharmacology.
Forward-thinking philanthropy totaled $211 million in 2019. These investments in the future included the creation of six endowed professorships. We raised more than $14 million in support of medical education, including $11 million in new financial aid.
These and many other accomplishments resonated far beyond Penn's campus. Media coverage of our research and clinical activity were featured in more than 2,500 national outlets.
I anticipate even more exciting advances in 2020 and the years beyond. The health system is well positioned to stay in front of changes in the health care landscape and thrive under the new leadership of Kevin Mahoney. I am confident that the investments we are making in people, programs and infrastructure will sustain the accelerating momentum we experienced over the past year. Most importantly, our success reflects the talent and dedication of our faculty, students, and staff. Thank you for your commitment to excellence, to one another, and to our patients. Your collaborative spirit defines our community and is the surest guarantor of its continued success.
With best wishes for health and happiness for the remainder of the holiday season and in the New Year!
Sincerely,


J. Larry Jameson, MD, PhD