MLK Day 2020 Reaffirms Our Dedication to Health Equity
MLK Day 2020 Reaffirms Our Dedication to Health Equity
---
January 13, 2020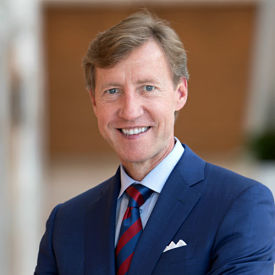 Dear Colleagues – Faculty, Students, and Staff,
On January 22, we will gather for the 6th annual Martin Luther King, Jr., Health Equity Symposium. The program, which has become one of our academic community's finest traditions, honors Dr. King's legacy and underscores Penn Medicine's dedication to his vision of social justice.
Over the years the symposium has attracted our nation's foremost leaders in public health, including U.S. Surgeon Generals and Assistant Secretaries of Health and Defense. This year's program – no exception -- will feature a keynote address by Leandris Liburd, PhD, MPH, MA, the Associate Director of the Office of Minority Health and Health Equity at the Centers for Disease Control and Prevention (CDC). Dr. Liburd has been instrumental in building capacity across CDC and in public health agencies to address the social determinants of health, and in identifying and widely disseminating intervention strategies that reduce racial and ethnic health disparities. Her talk is sure to be informative. If you have not already done so, I encourage you to register for the symposium here.
In 1966, as he was organizing a direct action campaign against hospital discrimination in Chicago, Dr. King famously said, "Of all the forms of inequality, injustice in heath is the most shocking and inhuman." More than half a century later, the health of poor Americans, including the one quarter of Philadelphia residents who live in poverty, is in peril. Obesity, cardiovascular disease, diabetes, and cancer – despite progress to improve outcomes from these diseases for our nation as a whole – remain pervasive challenges. Dr. King's message is as urgent as ever, and at Penn Medicine we hear it clearly.
As a community, we are devoted to ensuring that all of our patients -- regardless of background, culture, or where they live -- can achieve their best health. We are committed to combating racial bias in medicine and the widespread suffering brought about by the social and structural determinants of health. The work we do through research, quality improvement, innovations in medical education, and community engagement reflect this mission.
Penn's broad, interdisciplinary efforts were showcased at the annual meeting of the American Public Health Association in Philadelphia this past November. Numerous centers and institutes throughout Penn Medicine, in our allied health schools, and across the University are developing innovative solutions to combat the social determinants of health. As one example, the Penn Center for Community Health Workers has served over 10,000 patients in the Philadelphia region, with positive evidence-based impact. Its approach is a national model, which is being replicated across 18 states.
I am also encouraged by the work of our clinical departments and the Penn Medicine Center for Health Equity Advancement (CHEA), which was launched collaboratively in 2018 by the PSOM Office of Inclusion and Diversity and the UPHS Office of the Chief Medical Officer. CHEA is helping to eliminate disparities in quality of care delivered throughout the health system. In the past year, it integrated demographic filters in quality metrics and launched a readmissions equity dashboard, while also implementing equity training modules and conducting the first health system equity retreat.
The passionate volunteerism of students, faculty, and staff demonstrates an inspiring commitment to health equity, engaging our communities on a daily basis to provide access to care and connect patients to the resources and tools they need to overcome barriers to better health.
We have made tremendous strides in improving health equity for everyone, but still have a long way to go. The Martin Luther King, Jr. Health Equity Symposium reaffirms our determination to make Dr. King's dream of a just and equitable society a reality. I hope to see you there.
With best regards,


J. Larry Jameson, MD, PhD