COVID-Related Extension of Probationary Periods
COVID-Related Extension of Probationary Periods
---
March 23, 2020
To:PSOM Faculty
From:J. Larry Jameson, MD, PhD
---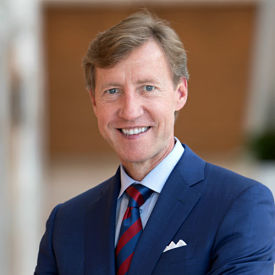 In this time of unprecedented crisis, we are mindful of the ongoing disruptions in the personal and professional lives of our Penn Medicine colleagues. For faculty who are assistant professors in the Tenure, Clinician-Educator, and Research Tracks, and associate professors without tenure, we recognize the impact of COVID-19 on the ability to perform the academic responsibilities on which the evaluation for promotion will be based.
To that end, the Perelman School of Medicine recognizes that catastrophic events are occurring for some of you warranting relief under the policies found in the University's Handbook for Faculty and Administrators Section II.E.3.A.4, "Policy on Extension of the Probationary Periods that Apply to Granting of Tenure or Promotion to Associate Professor." Under these policies, any faculty member in their probationary period (except those currently in their mandatory year) will be eligible to request an extension to their probationary period.
The length of time that we will be affected by COVID-19 is unknown, so the impact of COVID-19 on research and other academic activities of any individual faculty member may not be immediately apparent. In keeping with university rules, you are asked to apply for your optional extensions within a year of catastrophic events and before the commencement of your original mandatory review year. Thus, it is not necessary to apply for an extension right now. However, if your mandatory review year begins July 1, 2020, you must apply before that date. To reduce administrative burden and anxiety to the extent possible, we will be expediting the process of granting extensions.
The process to apply for an extension is as follows:
complete the extension form also accessible on the FAPD website.
include a brief written description of the COVID-related circumstances that impacted your academic productivity.
Submit to your chair for sign off.
Following sign-off by the department chair, the completed form will undergo review. To expedite the process of evaluating the many COVID-19 related requests we expect, a separate investigation by an ad hoc faculty committee will not generally be required but rather an administrative review by Faculty Affairs will be conducted. For catastrophic event applications that are not related to COVID-19, the standard process will be used.
Candidates presently in their mandatory year (AY 2019-2020) are not eligible for extensions, since the review is in its final months. Those faculty whose mandatory reviews or promotions are in progress can expect that they will be completed on or close to schedule this spring or early summer.
The university's extension policy was intended to address catastrophic events such as this, and we encourage you to take advantage of the existing policy aimed to help ensure your success. Extensions of your probationary period remain available under existing rules for new children in your home, serious illness and caregiving of family members with serious illness. Use the same extension form for all applications.
If you have any questions about the process, contact Victoria Mulhern in FAPD at vmulhern@upenn.edu.