We Mourn the Passing of Madlyn Abramson
We Mourn the Passing of Madlyn Abramson
---
April 16, 2020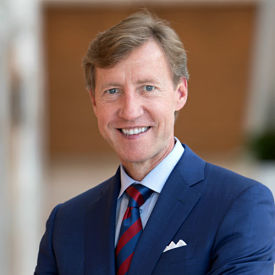 Friends,
It is with a heavy heart that I share the news of the passing of our beloved friend, stalwart champion, and Emeritus Trustee Madlyn Abramson, ED'57, GED'60. She was 84 years old.
To the end, Madlyn was dedicated to the health of our patients and this city, most recently helping launch a clinical trial for the treatment and prevention of COVID-19. Of course, she and husband Leonard are best known for their tireless support of the Abramson Cancer Center and Abramson Family Cancer Research Institute. We will miss her drive, her absolute focus on compassionate patient care, and her dedication to our physicians and researchers.
At the 1997 announcement event, Madlyn put the gift into a personal context. "As a cancer survivor for 12 years, I understand the importance of patient-centered approaches in research and clinical activities." In the years since, the ACC has established national models for cancer care, onboarding a diverse team of patient-service coordinators, cancer nutritionists, and psychosocial counselors and social workers, and developing robust survivorship programs.
Her public commitment also would prove prescient: Among first recruits to the Abramson Family Cancer Research Institute made possible by their gift was Carl June, MD, the immunotherapy pioneer responsible for the development of what became the first personalized cellular therapy for cancer. At a celebration event attended by hundreds of faculty and staff to celebrate the FDA's historic approval of the therapy in August 2017, Madlyn and Leonard stood by proudly with Dr. June, his team of physicians and scientists, and our leadership. It was an honor to have her share that moment with all of us.
Recently, her most visible efforts have been the annual celebration Philly Fights Cancer, joining forces with one of her daughters, Nancy Abramson Wolfson. It has grown since 2015 to become Philadelphia's preeminent fundraising event, headlined by international talents including Hugh Jackman, Lionel Richie, Maroon 5, and Jerry Seinfeld. To date, the organization has raised more than $39 million benefitting essential clinical trials that power the next generation of cancer cures.
Madlyn's impulse to help, to share, and to inspire is one she learned from her father, Maurice Kornberg, and his devotion to his patients. As Madlyn recalled, "It was very important to my father to do something that was helping and healing." She also credited her father's influence for her decision to attend Penn, where she earned a bachelor's and master's degree, both in education.
Please join me in keeping husband, Leonard, three daughters — Marcy Abramson Shoemaker, Nancy, and Judith Abramson Felgoise — and many grandchildren in your thoughts and prayers. May her example continue to inspire, especially in these very difficult times.
With best regards,


J. Larry Jameson, MD, PhD