Graduation Remarks: 2020
---
May 17, 2020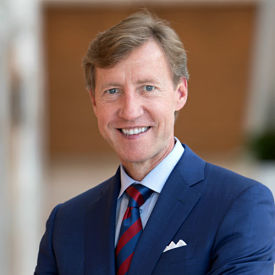 Good morning, everyone. I am Larry Jameson, Dean of the Perelman School of Medicine.
It is great to be with you today – even virtually. Graduates, this is still your day! And we are here to celebrate YOU, the Class of 2020.
To say that your commencement is different is, of course, a huge understatement.
Certainly, I miss the proximity and togetherness of a traditional graduation ceremony. But gathering in this way is a mark of our resolve to be resilient until the end of this pandemic.
Rarely has a graduation ceremony been more significant or more essential. Commencement remains a beginning and a time of joy. And our focus is firmly fixed on the medical knowledge and skills you have acquired and will use for decades to come.
There are many people to recognize for bring you to this point in your career.
This begins with our faculty -- the professors, the clinicians, the scientists -- who have been role models and mentors, sharing their wealth of knowledge and their values of humanism and professionalism. Many of them have joined us online to demonstrate their support. Thank you.
It also includes trustees of Penn and Penn Medicine, and other leaders whose service to the school is invaluable.
I want to recognize some of them online with us today:
David Cohen
Andy Heyer
Walter and Ann Gamble
Barrie Jordan
Robert Johnson
Kevin Mahoney
Jon Epstein
Thank you for all you do to support our graduates and the mission of Penn Medicine.
Your families, spouses, partners, and friends have made sacrifices to get you to this point. For their support I'm sure you're deeply grateful. So please turn to those who are with you now and acknowledge their support, along with the support of those who could not be with you physically today.
To reach this milestone, you've worked extraordinarily hard, met every challenge we set before you, and amazed us with your accomplishments. We are proud of each of you. Congratulations to you all.
This is a moment of great change and transition. Even in ordinary times it is bittersweet. Many of you will be moving away to a new city with the added challenges of physical distancing. As you begin internships in the next month, the learning curve will be steep, but also incredibly exciting and invigorating as you hone your skills and begin your lives as doctors.
Penn has prepared you well for this new responsibility. You have proven your ability to acquire the knowledge and skills to serve as outstanding physicians.
While the pandemic has been swift and frightening, it has afforded you a moment to reflect on what matters most to you, what kind of doctor you want to be, and the type of impact you want to have.
You have chosen the medical profession because it is a calling to serve, as well as a profession. In this respect, the pandemic has revealed your character, and I couldn't be prouder of the way you have run toward this crisis.
You have responded with urgency, resourcefulness and resilience – staffing our telemedicine hotlines, working in the e-ICU, staffing the CHOP COVID call center, working with the Penn Medicine Center for Healthcare Innovation to create an AI Chatbo for patient questions about COVID, helping our hospitals find personal protective equipment and other essential supplies, shopping for groceries, and volunteering in countless other ways to support the people of Penn Medicine, and the patients and communities we serve.
You have come together in this crisis and will be different doctors – better doctors – than you otherwise might have been – stronger, more resourceful, and better prepared to address urgent needs -- more appreciative of teamwork and quicker to look out for one another.
You are becoming doctors at an exciting time for medicine. The tools we have for discovery, diagnosis, and treatment have never been more powerful. As you enter medical practice, the use of imaging, minimally invasive surgery, new medicines, informatics, and artificial intelligence will allow you to make diagnoses earlier and treat diseases with ever-increasing precision and better outcomes.
Those advances make our health system one of the best in the world. However, the pandemic has shined a harsh light on the ways the health of our society falls short of our expectations – the fragility of our public health system, the racial and socioeconomic health disparities that have been starkly exposed in the midst of this outbreak, particularly with respect to death rates of black and Hispanic people.
The crisis is illuminating a better path for the future of medicine – one that places more emphasis on prevention, access and equity, that has a more robust and innovative public health infrastructure, that expands telemedicine and uses technology to engage patients more actively in their care, that applies cutting-edge sequencing technology and informatics to speed the development of new therapies and vaccines.
You benefit from the training you have received at the Perelman School of Medicine, and also from the diversity and wide-ranging life experiences you brought here. Those are tremendous strengths. As you join the healthcare workforce, we are confident that they will elevate your impact.
At Penn Medicine we are accustomed to taking the long view. Our medical school was the first in the United States – founded in 1765. Our graduates have answered the call to service throughout our nation's history – from outbreaks of yellow fever at the time of the American Revolution, to the Spanish flu in 1918, to the coronavirus pandemic today.
Soon you will be hearing from a member of the Class of 1970, marking its 50th reunion year. I would like to thank Dr. Elliot Yolles for his support. Ordinarily he would be joined by many other members of the Class. While they could not be with us today, I want to thank them for their engagement and generosity over the years.
Today's graduates could not find better role models than our 50-year alumni. They never stopped learning, and over decades, they have adapted to enormous changes in our profession. You will have to do the same over the course of your careers -- perhaps even more so, as the creation of new biomedical knowledge and the accompanying pace of change continue to accelerate.
I know you are anxious to begin this next exciting phase of your careers. The Perelman School of Medicine has prepared you extraordinarily well, not only to save lives in this crisis, but to lead throughout your medical careers.
We are very proud of you and look forward to your impact.