Our Strengths: Welcome Back Fall 2020
Our Strengths: Welcome Back Fall 2020
---
August 19, 2020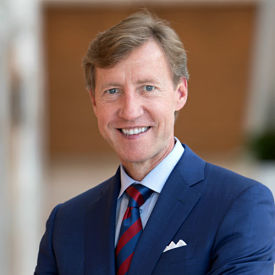 Dear Faculty, Students, and Staff,
The strengths of our academic community are never more apparent to me as Dean than at the beginning of a new academic year. It is an opportunity for me to welcome new faculty, students, and house staff to Penn -- and to reflect on the talent and passion of these newest members of our community, and the strengths of the community that brought them here. This year those welcoming events were virtual, but the excitement was real. And it gives me great pleasure to tell you that the new academic year is off to an excellent start.
Penn Medicine, with the rest of the University, continues to face unprecedented challenges. COVID-19 and the reckoning with systemic racism sparked in May by the death of George Floyd are transforming the way we live and work. As we press forward it is worth recalling the resourcefulness and resilience that saw us through the spring and summer. These extraordinary circumstances have brought out our best, and are making us an even stronger academic medical center. They have been catalysts for numerous changes with lasting impact that are worth contemplating as the new academic year begins. In this brief message I will highlight just a few of them.
Through the Action for Cultural Transformation (ACT), we are working with urgency to ensure equity and eliminate structural racism throughout Penn Medicine. The impact will be felt across our enterprise in clinical care, research, and teaching. Hundreds of you are already involved in this process, and over the course of the new academic year I anticipate that hundreds more will become engaged. We will not rest until Penn is recognized as a leader in eliminating racism from medicine, whether in hiring and retention, in mechanisms to report microagressions and other incidents of bias, or in initiatives to address the health disparities in our community that have been so starkly highlighted by the COVID-19 pandemic.
We are meeting the COVID-19 crisis with innovations that are also transforming every mission area. The incredible work of our frontline providers during the surge of cases in the spring was beyond heroic. Their skill and compassion were enhanced by transformational changes in care delivery, as we deployed new and existing programs that leverage telemedicine, automated hovering, remote monitoring, and information technology platforms. Numerous examples with lasting impact include: COVID Watch, a monitoring platform that can become a model for care in hypertension, diabetes, and other chronic diseases; enhanced telemedicine capacity that already enables 6,000 visits a day; and a chatbot and patient triage tool that offloads work from frontline clinicians and shortens wait times for patients.
Our research enterprise pivoted quickly to work on COVID-19. We stood up the Penn Center for Research on Coronavirus and Other Emerging Pathogens in March and dedicated significant resources and facilities to refining rapid diagnostic testing, performing immune profiling, screening all FDA-approved drugs for activity against the virus, and investigating gene therapy options to rapidly deliver protective antibodies and other therapies. These initiatives are ongoing and will have lasting dividends. As overall research activities continue to ramp up, the pace of discovery is accelerating, with new laboratory findings in areas from immune health to epigenetics and behavioral economics. We are also sharpening our focus on big data and population science in response to the pandemic. Our clinical trial activity was equally adaptive. We quickly established a transparent process for reviewing and prioritizing COVID-19 clinical research and will be leveraging sustainable strategies in the coming year and beyond to optimize efficiencies and reduce burden.
Our school's commitment to ongoing evolution of our medical education curriculum and the resilience of our faculty and students have been key to transformative changes in our education program a well. In the coming year we will continue to adjust the curriculum to accommodate the safety of students and patients and meet our educational needs in the COVID-19 setting. We will also continue to enhance our use of education technology, including virtual reality, incorporate telehealth into the curriculum, and leverage the successful transition of our Objective Structured Clinical Examination (OSCEs) and Simulations to online activities.
We also start the academic year with an infusion of new leadership. I am delighted to have on the team Richard C. Wender, MD, as Chair of the Department of Family Medicine and Community Health; Elizabeth A. Howell, MD, MPP, as Chair of the Department of Obstetrics and Gynecology; and Daniel Yoshor, MD, as Chair of the Department of Neurosurgery and Vice President for Clinical Integration and Innovation.
Sustaining all this momentum rests with all of us and requires that we continue to make the safety and well-being of all members of our community our highest priority. As one example, in the coming year we will enhance and expand access to PennCOBALT, the web-based platform that provides curated behavioral health and wellness content as well as group and individualized support for Penn Medicine employees. Taken together, all these efforts testify to the adaptability of our community and to our determination to meet every challenge and seize every opportunity that lie before us. I look forward to an academic year that nourishes our well-being as individuals and as a community, and enhances our impact as an institution.
With best regards,


J. Larry Jameson, MD, PhD