2020 Year-End Message: United
2020 Year-End Message: United
---
December 21, 2020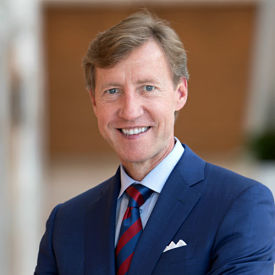 Dear Colleagues,
As we count down the days to 2021, I can't think of a time when I have been more eager to turn the page on the calendar – or a time when I was more proud of Penn Medicine. Our response to the historic challenges of 2020 has been amazing. We met the extraordinary circumstances of a year that joined the coronavirus pandemic to the epidemic of racial inequity in our country with exemplary compassion, determination, and imagination.
In a year so eventful, the list of accomplishments is vastly longer than I can encompass here. I will highlight a few and begin by noting that the strength of our collaborative culture made them possible. Working together, we achieved all that follows and more, and can be justifiably proud of how well we performed.
As I write, the COVID-19 case count across the health system is again surging. During the first surge in the spring and summer we mastered a very steep learning curve and took truly heroic actions to provide safe clinical services and care for our community. We stood up auxiliary intensive care units, including the 120 patient rooms fitted out in record time in HUP East. We opened testing sites in community clinics and other locations in West Philadelphia and across the region. We innovated the COVID-Watch patient monitoring program, deployed chatbots to answer patient questions, and dramatically ramped up our telemedicine capabilities, which went from 10-15 telemedical visits per day in February to 7500 per day by the end of March. We developed new ways to provide treatments at home, including infusion therapy for our cancer patients. When PPE was in short supply, we scoured campus for supplies and collaborated with colleagues across the University to fabricate our own face shields. We learned how to mitigate the spread of infection, and in consultation with colleagues around the world, led in the development of best-practice protocols that cut the COVID mortality rate substantially, providing quality care that was among the very best in the nation.
This same impulse to run toward challenges and innovate solutions characterized the response of our scientific community, whose depth and range of expertise rose to the occasion. The year's most astounding scientific accomplishment -- going from a genetic sequence of a newly identified virus to starting vaccine inoculations within 11 months — could not have been achieved without novel mRNA biology developed over the years in the labs of Drew Weissman and Katalin Kariko. In response to the pandemic, we organized a Strategic Task Force to develop in-house assays. The Penn COVID SAFE saliva test program continues to ramp up, with three effective, innovative tests under development. Moreover, we created the interdisciplinary Penn Center for Research on Coronavirus and other Emerging Pathogens, as labs across campus pivoted quickly to unravel the mysteries of SARS-CoV-2. Scientists and clinicians submitted nearly $600 million in COVID-related grant proposals and accelerated pathbreaking research in fields ranging from virology, to immunology and vaccines, to diagnostics, therapeutics, analytics, and clinical research. Over 30 new COVID clinical trials were opened, with thousands of subjects enrolled in studies. At the same time, our overall research program reached new heights. FY20 total sponsored program expenditures of $763M set a record, and for the fourth consecutive year our faculty published more than 400 high-impact papers.
The seamless transition to a hybrid learning model belied the resourcefulness with which numerous obstacles were overcome to adapt to the COVID learning environment -- from expanding online offerings to pausing and then safely resuming clinical rotations. The pandemic has driven significant changes to an education program that was ranked #3 in the country by U.S. News & World Report for the second year in a row. Our BGS program was equally resourceful in creating opportunities for our talented PhD students to continue their programs while labs were shut down and now safely reopened. Students have responded brilliantly to all these challenges, staffing telemedicine hotlines and contact tracing teams and undertaking a wide variety of community engagement and advocacy projects. With the rest of our academic community, they have been especially motivated to address issues of race and health care disparities and became deeply engaged with the Action for Cultural Transformation (ACT) initiative to create an anti-racist culture at Penn Medicine and advance our commitment to diversity and inclusion.
The COVID pandemic has sharpened our awareness of health disparities, even as it has made them worse. The racial reckoning our society is now experiencing has galvanized the Penn Medicine community. We are united in our commitment to address racism in our culture and accelerate efforts to achieve health equity in our community. Since May, more than 5,000 faculty, staff, and students have engaged with ACT. We launched an enormous initiative to provide unconscious bias training to every member of our community, and a Roadmap is being finalized, outlining concrete actions we will take over the next several years to lead when it comes to combatting racism in medicine.
In this respect, and with every reason to believe that we have reached an inflection point in our battle with COVID-19, the year is ending on an optimistic note. I am confident that the united effort we mounted in 2020 will continue to elevate our community in 2021.
Wishing you safety, health and happiness for the remainder of the holiday season and in the New Year!
Sincerely,


J. Larry Jameson, MD, PhD