Welcome PSOM Class of 2021
Welcome PSOM Class of 2021
---
August 9, 2021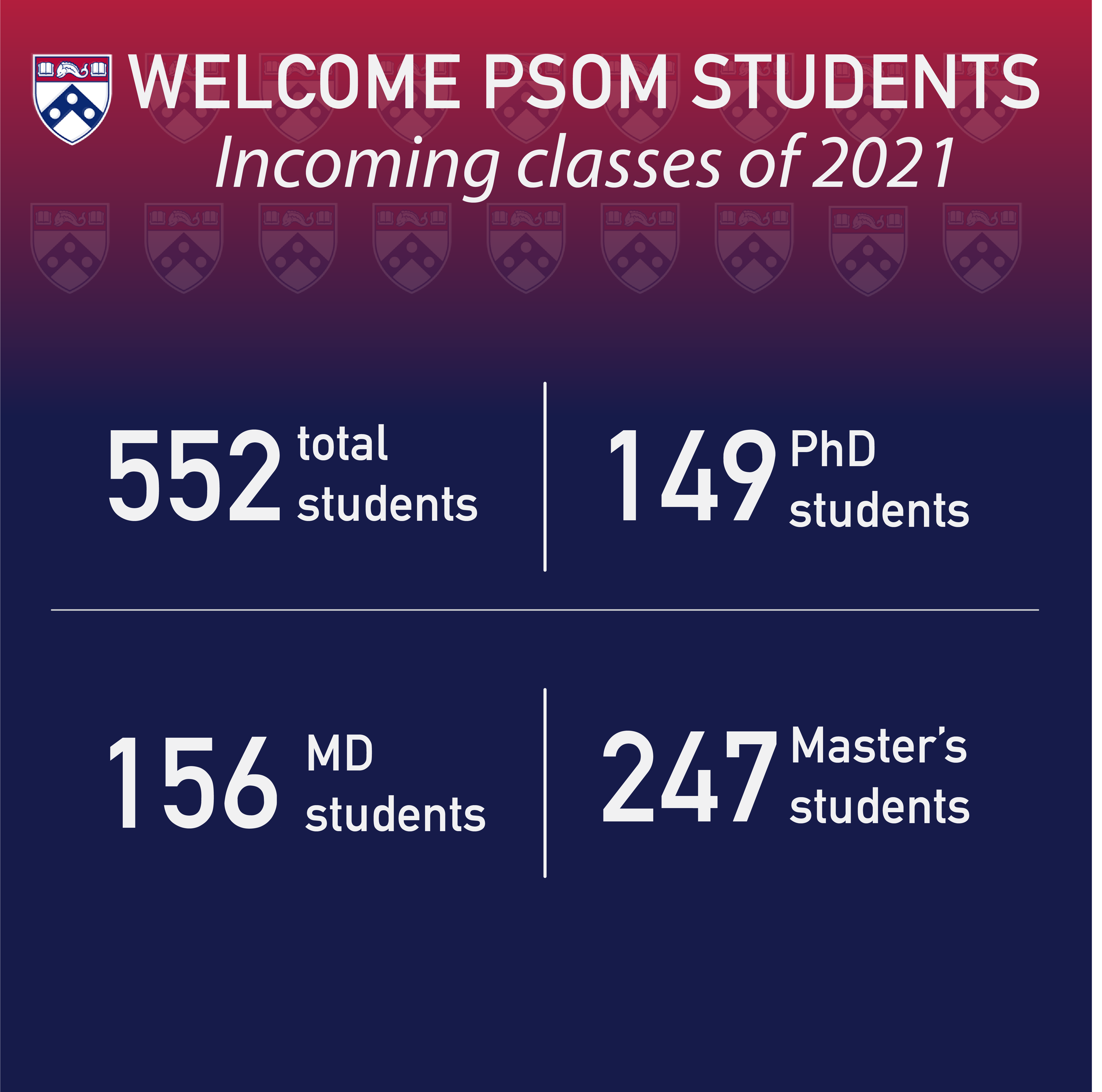 Dear Incoming Students,
We are delighted to welcome you to the Perelman School of Medicine. We take great pride in our inclusive culture, our dynamic learning environment, and our groundbreaking research.
Our faculty, students, and staff are excited that you are now part of the PSOM community. We all look forward to getting to know you better and helping you feel at home. The beginning of a new academic year is always a time of hope and optimism. Your arrival this year is especially welcome, as it marks our return to campus and in-person learning.
You are joining a group of amazing students who have responded with tremendous resilience and creativity to the challenges of the COVID learning environment and the past year's calls for racial justice. As you begin your academic journey, we are confident that these extraordinary times will reveal your strengths and sense of social responsibility, as well.
You are an exceptionally diverse and talented group of students, with a wide range of backgrounds, experiences, and perspectives, pursuing a wide range of degrees. You come to PSOM from across the U.S. and more than a dozen other countries around the world. Many of you have been inspired by the courage and determination with which our professions have met the worldwide health crisis, whether in the clinic or in the lab. Your idealism, as much as your diversity, adds to our strength.
You are now part of an academic community where scientists, physicians, and medical professionals constantly strive for excellence, as we pursue the next scientific breakthrough and health care innovation. It is a tremendously exciting environment. We look forward to the impact you will have, as you discover your unique passions and paths in health care and biomedical research.
You have worked hard to get here. Rest assured, PSOM is the right place and now is the right time to realize your boldest ambitions.
Sincerely,
J. Larry Jameson, MD, PhD, Dean of the Perelman School of Medicine
Jonathan A. Epstein, MD, Executive Vice Dean and Chief Scientific Officer
Suzi Rose, MD, MSEd, Senior Vice Dean for Medical Education
Kelly Jordan-Sciutto, PhD, Associate Dean and Director of Biomedical Graduate Studies
Emma Meagher, MD, Associate Dean for Master's and Certificate Programs
Lisa M. Bellini, MD, Senior Vice Dean for Academic Affairs
Eve Higginbotham, SM, MD, ML, Vice Dean for Penn Medicine Office of Inclusion, Diversity, and Equity