Statement on Penn Medicine's Recognition of the Legacy of Albert Kligman, MD, PhD
Statement on Penn Medicine's Recognition of the Legacy of Albert Kligman, MD, PhD
---
August 20, 2021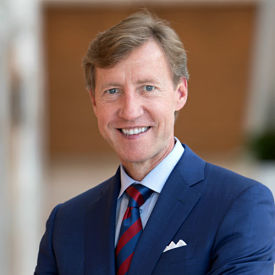 Dr. Albert Kligman, a long-standing faculty member in the Department of Dermatology before his death in 2010, conducted decades of research at Philadelphia's Holmesburg Prison and other institutions beginning in the 1950s. This research, involving an incarcerated population, has been highly controversial, and it is appropriate for us to reexamine how we recognize Dr. Kligman's legacy. Historical events such as these research projects can have a long legacy, and can lead to enduring mistrust and painful memories. Learning from our history can also inform current and future practices. The University of Pennsylvania and Penn Medicine have critically examined and reflected on this matter with the goal of ensuring that we evolve as an institution and fulfill our commitment to health equity in all domains of our mission.
In 2019, I convened a faculty committee representing experts across Penn from fields including dermatology, medical ethics, law, racial justice and civil rights. The committee was charged with examining the historical record and relevant issues, and recommending a course of action with respect to Penn's relationship with the legacy of Dr. Kligman.
The committee noted that Dr. Kligman made groundbreaking contributions to the field of dermatology. His scientific discoveries, published in more than 1,000 research papers and in over 20 textbooks, have benefited millions of people. They include the initial discovery of the effects of retinoic acid on acne as well as seminal discoveries in our understanding and treatment of common disorders such as aging skin, seborrheic dermatitis, ringworm, and alopecia. However, the committee also determined that, while Dr. Kligman's experimental protocols conformed to legal standards of the time, some of this work raised serious ethical concerns that should be addressed.
Penn Medicine acknowledges that the work done by Dr. Kligman was terribly disrespectful of individuals – many of whom were imprisoned Black men – denying them the autonomy and informed consent which the medical community now considers to be foundational underpinnings for conducting ethical research. Legality, of itself, does not excuse these activities, which are not now, and never were, morally acceptable, even if Dr. Kligman and his contemporaries believed them to be.
Penn Medicine apologizes for the pain Dr. Kligman's work caused to incarcerated individuals, their families, and our broader community. While we cannot alter this history, the actions we are announcing today as an institution will change significant aspects of how we recognize Dr. Kligman and his research, and will also devote substantial resources to research focused on skin of color and to education and patient care for underserved and vulnerable populations.
After considering the work of the committee, I have endorsed, several key changes in our recognition of the medical contributions of the late Dr. Kligman, including the development of new proactive education and experience opportunities and dedicated funding to promote respectful, equitable research and care for patients across all backgrounds, ethnicities, races and socioeconomic conditions. These actions are consistent with recommendations in the recently released Campus Iconography Report to better reflect the University of Pennsylvania's commitment to inclusion, innovation, and impact:
Sunsetting the annual named lectureship for Dr. Kligman. The annual lecture named in honor of Dr. Kligman will be sunsetted. This decision follows the suspension of the lectureship last year pending the report of the committee.
Renaming the Kligman Professorship II to the Bernett L. Johnson, Jr., MD Professorship. Dr. Johnson was a long-time Black faculty member in the Department of Dermatology and chief medical officer of the Hospital of the University of Pennsylvania who was a steadfast advocate for diversity, equity, and inclusion. The first Bernett Johnson Professor will be Dr. Susan Taylor, who is the inaugural Vice Chair of Diversity, Equity, and Inclusion for the Department of Dermatology and an innovator in skin of color dermatology.
Establishment of Research Funding for Diversity and Equity in Dermatologic Research, Education and Care. This multi-year financial commitment will redirect research funds previously held in Dr. Kligman's name to establish:

Scholarships for urban high school students of all socio-economic, racial and ethnic backgrounds to participate in Penn Academy for Skin Health (PASH), a program that engages local high school students with innovative STEM research related to dermatology, with a specific segment of the program dedicated to research focused on skin of color.
A new dermatology diversity residency position to train more dermatologists interested in skin of color and programs to support West Philadelphia residents.
Three Research Fellowship positions for two medical students and one post-doctoral fellow to conduct research related to skin disorders among patients of color.
I extend my sincere thanks to the faculty committee, the Department of Dermatology, Penn and Penn Medicine leadership, and many others in the Penn community who have offered their guidance and expertise as part of this important process as we work continuously to improve as an institution and as individuals.


J. Larry Jameson, MD, PhD