The New Academic Year
---
August 31, 2021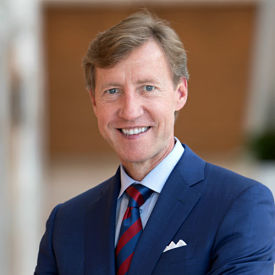 Dear Faculty, Students, and Staff,
As the new academic year begins, I am excited, but not surprised, by Penn Medicine's remarkable momentum in every mission area. I am also grateful for the tremendous dedication and hard work that sustains it. We have welcomed to campus an amazing cohort of 552 new students across MD, PhD, and Masters programs. Our research enterprise is growing, with record levels of sponsored program support and high-impact publications. In our hospitals and clinics, we have kept our patients safe, while finding new ways to deliver high-value, patient-centered care. Through focused community outreach and creative partnerships, such as the HUP Cedar Avenue consortium, we have expanded patient access and facilitated the delivery of life-saving vaccines in the communities we serve.
Although the pandemic is still with us, we have learned how to co-exist with the coronavirus, and the coming academic year presents opportunities as well as challenges. This fall we will open the new HUP Pavilion and mark the conclusion of a highly successful capital campaign. These milestone achievements lay a strong foundation for success throughout the year and for many years to come.
In the research domain, we will continue to develop talent in cell therapy, immunology, and vaccine development, while also leveraging basic science and clinical expertise across numerous departments and the health system to build a more cohesive focus on population health. At the same time, we will continue to promote translational discoveries, including in the area of COVID-19, where the historic breakthrough in mRNA biology achieved in the labs of Drew Weissman and Katalin Karikó has garnered well-deserved recognition for opening a new medical frontier.
In the education domain we will implement improvements in key areas of our curriculum, including anatomy, health equity, gender and sexuality, and planetary health. Through the IDEAL initiative, we will integrate inclusion, diversity, and equity programs across the school of medicine, with an initial focus on trainee wellness and community outreach efforts. As the ACT anti-racism initiative enters its second year, we will also continue to focus on cultural transformation and expand diversity recruitment and support efforts at all levels, including students, postdoctoral fellows, staff and faculty.
In the coming year, we project strong clinical and financial performance as well, as we continue to improve access and focus on high-value care. Among numerous initiatives, we will implement improvements to the call center and scheduling procedures, focus on improvements to telehealth, and drive clinical research programs across all 6 acute care hospitals, optimizing the ability of our faculty to engage with clinical data and biospecimens.
We also start the academic year with an infusion of new leadership. I am delighted to have on the team Enrique Schisterman, as Chair of the Department of Biostatistics, Epidemiology and Informatics (DBEI); Deborah Culley, as Chair of the Department of Anesthesiology and Critical Care; Gregory Farwell, as Chair of the Department of Otorhinolaryngology – Head and Neck Surgery; and Kevin Johnson, our newest PIK Professor, who will serve as Vice President for Applied Informatics in UPHS, in addition to his appointment in DBEI.
We all have different roles to play as we continue to move forward. However, we share a common purpose to improve human health and are fortunate to work in an environment rich with possibilities. I look forward with great optimism to an academic year that nourishes our well-being as individuals and as a community, and enhances our impact as an institution.
With gratitude and respect,


J. Larry Jameson, MD, PhD