Amelia Van Pelt, PhD, MPH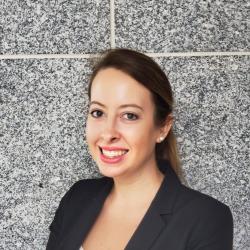 ---
More Info
Associate Scholar
 Postdoctoral Fellow in Implementation Science | Northwestern University
 United States | Nigeria | Zambia
  Epidemiology | Infectious disease | Low-resource Settings | Vaccines
Languages: English (Native), Spanish (advanced)
Bio statement
Amelia E. Van Pelt, Ph.D., MPH, is a postdoctoral fellow in Implementation Science at the University of Pennsylvania. She holds additional appointments as an Associate Scholar in the Penn Center for Global Health and at the Center for Public Health Initiatives.

Dr. Van Pelt holds a BA in Spanish & Global Health, Culture, and Society, a certificate in Leadership, and an MPH in Global Health from Emory University as well as a Ph.D. in Epidemiology from the University of Pennsylvania.

She has experience in research and applied work in Latin America and Africa, as well as surveillance on a global scale. Her skills extend from laboratory sciences to statistical analyses, and she has collaborated with interdisciplinary teams in academic, government, and not-for-profit organizations. Her research interests include global health, infectious diseases, and outbreak response. She is building a research program at the intersection of epidemiology and implementation science in resource-limited settings. Specifically, she aims to collaborate with stakeholders to increase the uptake of evidence-based practices for infectious diseases in humanitarian emergencies.
Amelia was selected as the 2021 recipient of the Penn GGEB Tom TenHave Student Leadership Award. Amelia was recognized for her exceptional contributions to the leadership of the graduate program and the local and international community. Amelia was one of five trainees awarded The Distinguished Research Trainee Award.
Recent global health projects
Ndola & Lusaka, Zambia: I worked on research assessing knowledge retention and capacity building in a simulated vaccine efficacy trial. The study took place at one of the International AIDS Vaccine Initiative (IAVI) selected sites for the HIV vaccine trial as a way to prepare for the clinical trial. I developed, trained, and completed the SOPs for the laboratory testing of antibodies through the use of a proxy vaccine. I also administered knowledge, attitude, and perception (KAP) surveys for a vaccine education session with the study participants (female sex workers and single mothers).
Nancimi, Nicaragua: I completed a needs assessment to inform the development of a training program. I conducted "charlas" (educational sessions) for 30 community leaders in a training-of-trainers approach on pressing health issues in the community (e.g. Dengue, Chikungunya, and diarrhea).
Selected publications
Amelia E. Van Pelt, Elizabeth D. Lowenthal, Onkemetse Phoi, Ontibile Tshume, Mogomotsi Matshaba & Rinad S. Beidas (2021) Medical stakeholder perspectives on implementing a computerized battery to identify neurocognitive impairments among youth in Botswana, AIDS Care, DOI: 10.1080/09540121.2021.1990202
Van Pelt AE, Lipow MI, Scott JC, & Lowenthal ED. Interventions for children with neurocognitive impairments in resource-limited settings: A systematic review. Children and Youth Services Review. 2020; 118:105393.

Scott JC, Van Pelt AE, Port AM, Njokweni L, Gur RC, Moore TM, Phoi O, Tshume O, Matshaba M, Ruparel K, Chapman J, & Lowenthal ED. Study design and protocol for the Ntemoga Study: Development of a computerized neurocognitive battery for children and adolescents with HIV in Botswana. BMJ Open. 2020; 10:e041099.

Van Pelt AE, Glick HA, Yang W, Rubin D, Feldman M, & Kimmel SE. Evaluation of COVID-19 testing strategies for repopulating college and university campuses: a decision tree analysis. J Adoles Health. 2020.

Benjamin Wolk C, Van Pelt AE, Jager-Hyman S, Ahmedani BK, Zeber JE, Fein JA, Brown GK, Gregor CA, Lieberman A, & Beidas RS. Stakeholder perspectives on implementing a firearm safety intervention in pediatric primary care as a universal suicide prevention strategy: A qualitative study. JAMA Netw Open. 2018; 1(7): e185309.
Van Pelt, A. E., Quinones, B., Lofgren, H. L., Bartz, F. E., Newman, K. L., & Leon, J. S. (2018). Low prevalence of human pathogens on fresh produce on farms and in packing facilities: A systematic review. Frontiers in Public Health, 6(40). doi: 10.3389/fpubh.2018.00040
Fonseca, J. A., Cabrera-Mora, M., Kashentseva, E. A., Villegas, J. P., Fernandez, A., Van Pelt, A., Dmitriev, I. P., Curiel, D. T., & Moreno, A. (2016). A Plasmodium promiscuous T cell epitope delivered within the Ad5 hexon protein enhances the protective efficacy of a protein based malaria vaccine. PLoS ONE 11(4): e0154819. doi: 10.1371/journal.pone.0154819
Last Updated: 19 September 2022