Penn at AAIC
Penn researchers at AAIC | Photo credit: Cait Kearney
---
More than 45 University of Pennsylvania scientists were among 10,000 attendees of the Alzheimer's Association International Conference (AAIC) held in Amsterdam, Netherlands, and online. Researchers presented and discussed their cutting-edge research related to Alzheimer's diagnostics, interventions, and basic science. Check out the conference and Penn highlights below.
Cait's Brain Bites Blog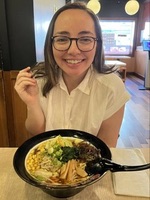 Cait Kearney, a communications specialist at Penn Memory Center, attended AAIC and kept a daily blog to reflect on her experiences at the conference. She also reviewed a Dutch food each day, like bitterballen and stroopwafel. Click here to read Cait's blog.